(CNN) -- The U.S. government is looking into the cases of three American hikers believed to have been seized inside Iran, along the Iraqi border.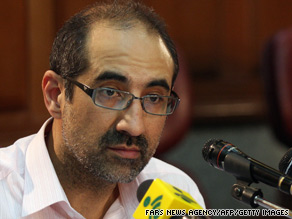 Iranian-American scholar Kian Tajbakhsh currently is in Iranian custody.
The three University of California-Berkeley graduates were arrested Friday after apparently crossing from Iraq into Iran during a hike.
Washington has also expressed deep concern over Iranian-American scholar Kian Tajbakhsh, who was recently re-arrested and charged in connection with violent post-election rallies in Tehran.
Human Rights Watch noted that neither Tajbakhsh nor any of the other more than 100 defendants were charged with specific violations of Iranian law.
It is not the first time Iran has detained American nationals for unspecified reasons. Here is a breakdown of Americans who have been detained or gone missing in recent years in Iran:
Parnaz Azima
Azima, who is an Iranian and American national, had her passport confiscated in January 2007 and faces arrest if she returns to Iran. Azima, who works for Persian-language broadcaster Radio Farda -- funded by Radio Free Europe and Voice of America -- was allowed to leave Iran in September 2007.
In March 2008, she was convicted of "spreading anti-state propaganda" and given a one-year prison sentence.
She is appealing the verdict but may have to choose between returning to Iran to serve the sentence or forfeiting the deed to her 95-year-old mother's Tehran home, which was turned over to authorities in lieu of her bail, which was set at over $500,000.
Haleh Esfandiari
Esfandiari, the director of the Middle East Program at Woodrow Wilson Center in Washington, was detained in December 2007 on her way to Tehran's airport as she was returning from visiting her ailing mother in Iran.
Iranian authorities later charged her with harming national security and held her for more than 100 days in Tehran's notorious Evin Prison. She was released August 21, 2007, after her mother posted $330,000 bail, and left Iran on September 2, 2007.
Robert Levinson
American Robert Levinson, a retired FBI agent, has been missing in Iran for over two years. Levinson had been working as a private investigator in Dubai. He was last heard from on March 8, 2007, when he checked into a Kish Island hotel and then checked out to return to the United States the following day.
Iranian authorities have said repeatedly that they do not know what might have happened to him. The State Department has consistently denied Levinson was working for the U.S. government and has unsuccessfully pressed Tehran for information about his whereabouts.
In December 2007, Levinson's wife and other relatives traveled to Iran and met with officials. Christine Levinson has said the Iranian government was polite and guaranteed her family's security on their trip but provided no details regarding her husband's whereabouts.
Esha Momeni
Momeni -- an Iranian-American student, artist, and women's rights activist -- was held in Evin Prison for 28 days in late 2008, most of that time in solitary confinement. She was released from prison after posting $200,000 bail with the deed to her parent's house, according to her blog, for-esha.blogspot.com.
Iranian authorities have confiscated her passport, preventing her from leaving the country and resuming her studies at California State University-Northridge.
Momeni says on the blog that she endured some 19 interrogation sessions "sometimes starting from morning till night during which I was constantly trying to convince the interrogators of the truth, that I am a student working on my thesis and not part of a project to overthrow the government."
At the time of her detention in October 2008, she was visiting Iran to work on her master's thesis project.
Roxana Saberi
Saberi, a freelance journalist from North Dakota, spent four months in jail earlier this year. Saberi had been living in Iran since 2003. She was detained in January 2009 on espionage charges. Officials initially said Saberi was held for buying a bottle of wine. The foreign ministry later said she was detained for reporting without proper accreditation. She was released in May 2009 and has since returned to the United States.
Ali Shakeri
Shakeri, an Iranian-American businessman and peace activist from California, was held by Iranian authorities for four months. He was picked up in May 2007 while attempting to return to the United States after visiting his ailing mother, who died while he was in custody. He was released from Evin Prison in September 2007.
Kian Tajbakhsh
Tajbakhsh, an Iranian-American academic, is currently in Iranian custody. He has been charged along with more than 100 others for their alleged roles in protests that followed the disputed presidential election in June. It is his second arrest in two years.
Iranian security forces seized Tajbakhsh from his Tehran home on July 9, 2009, confiscated his computer, and ransacked the house where he lives with his wife and year-old child, according to sources close to his family.
The reason for his arrest was not immediately known, and there has been no comment from the Iranian government. The sources said his family doesn't know where he is.
This week, the U.S. government expressed its deep concern about Tajbakhsh's situation, noting that he has been denied access to an attorney.
"He has played absolutely no role in the election and poses no threat to the Iranian government or its national security," State Department spokesman Robert Wood said Tuesday, reading a prepared statement. He called for Tajbakhsh's immediate release.
Human Rights Watch has also expressed concern for Tajbakhsh, saying he and the more than 100 others are being put on a "show trial" that is politically motivated.
In May 2007, Iranian security forces detained Tajbakhsh and his wife, who was pregnant at the time. She was released a day later. He was held in solitary confinement in Evin Prison for more than three months, along with another Iranian-American, Haleh Esfandiari, who also was accused of endangering national security.
Esfandiari was freed weeks before Tajbakhsh was.
At the time, Tajbakhsh was an independent consultant and urban planner working for George Soros' Open Society Institute. Tajbakhsh, who holds a doctorate in urban planning from Columbia University, has taught at universities in both America and Iran.
E-mail to a friend

All About Iran