Editor's note: Fareed Zakaria is an author and foreign affairs analyst who hosts "Fareed Zakaria GPS" on CNN on Sundays at 1 and 5 p.m. ET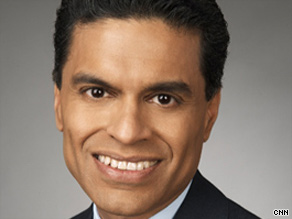 Fareed Zakaria says recent moves in the Mideast have raised hopes for progress toward peace.
NEW YORK (CNN) -- Senior members of the Palestinian Fatah party have suffered a serious upset in a vote to determine the party's key decision-making body.
Unofficial results this week showed a major upheaval of Fatah's old guard. Fatah party members voted among 18 candidates who are vying for seats on the Central Committee, the party's highest decision-making body.
"People want new faces, a new spirit with more energy and with more strength, because we have a very long struggle ahead," Fayez al-Saka, a Fatah member of the Palestinian Legislative Council, told CNN in the West Bank city of Bethlehem.
CNN spoke to author and foreign affairs analyst Fareed Zakaria about changes in the Palestinian movement and about Israel, Iran and the prospects for peace in the Middle East.
CNN: Former Ambassador John Bolton recently said he thought Israel would attack Iran by the end of 2009. Do you think that will happen?
Israel's ambassador on Fareed Zakaria GPS
The first television interview with Israel's new ambassador to the U.S. Plus, an unusual event in Nairobi featuring Hillary Clinton and Fareed.
1 p.m. ET Sunday

Fareed Zakaria: Well, Ambassador Bolton has made this prediction in the past. You may recall he was convinced Israel would launch an assault against Iran before the Obama administration was sworn in. However, this is a legitimate and serious concern, so I asked the Israeli ambassador to the United States this question. Ambassador [Michael] Oren answered, "I don't think it's [an attack on Iran] true. I think that we are far from even contemplating such things right now."
CNN: Are the Israelis concerned about President Obama's overtures toward Iran?
Zakaria: Ambassador Oren went out of his way to say there was no problem between the United States government and Israel, as has been reported in the press. When I asked him about the concerns the Israeli government had, he admitted there had been some trepidation at the beginning. However, conversations between Prime Minister [Benjamin] Netanyahu and President Obama seem to have made them more comfortable. As Ambassador Oren states on our show this weekend, President Obama "assured [Netanyahu] that there would be a serious reassessment of the engagement policy before the end of the year.
"And we are further reassured, now that that end-of-the-year deadline has been moved up to September. We actually have a date when it's going to occur. We are confident by the fact that the administration, in the aftermath of recent events in Iran, has exhibited greater willingness to consider formulating a package of serious sanctions against Iran, even now in advance of the reassessment."
CNN: President Obama also wanted to make the peace process a priority. What is happening on that front?
Zakaria: Former Sen. George Mitchell was assigned as special envoy on the issue. He is a man of great talent and integrity who had negotiated the peace accords in Northern Ireland. There were high hopes that the seasoned diplomat would broker a deal.
But it's been difficult since then. The new Israeli Parliament is the most right-wing in memory, as is the new government. The Prime Minister, Benjamin Netanyahu, was fiercely critical of the former Prime Minister, Ehud Ohmert's, eventual support for a Palestinian state. The Obama administration and Israel have also clashed on the Netanyahu government's determination to expand Israeli settlements in the West Bank.
CNN: Are things getting worse?
Zakaria: Actually, there have been some good signs that indicate progress. Prime Minster Netanyahu has finally accepted the idea of a Palestinian state. There are a lot of caveats -- it must remain unarmed, without control of its borders or airspace and without East Jerusalem as its capital -- but it is movement.
On the Palestinian side, there has been some surprising positive news. The Palestinian Authority is becoming less corrupt and more competent under the leadership of a brave, honest technocrat, Salam Fayyad. It's possible that these positive factors will actually begin to produce some good news over the next several months.
CNN: What has Salam Fayyad been able to do?
Zakaria: Well, he has focused on building institutions instead of putting his energy into fighting for Palestinian rights. That may not sound like a good or desirable thing on the surface, but it is key to actually governing. You need the financial, social and security services in place to have an effective state. It has been one of the arguments the Israeli government has had with the peace process. Are there institutions that exist and can survive if Palestinians are given independence? Prime Minister Fayyad is working so they can say, "Yes there are."
CNN: But this only covers the West Bank. What about Gaza?
Zakaria: Yes, that is the problem. Things have been quiet in Gaza, but that does not mean it isn't an issue. The living conditions there are said to be hellish. However, that may mean that Hamas is losing steam.
CNN: Can't the same methods used in the West Bank be applied to Gaza?
Zakaria: I asked Ambassador Oren this question on our show this week. He replied, "In Gaza, you still have an Iranian-supported proxy terrorist organization that has committed itself not only to Israel's destruction, but to the undermining of al-Fatah rule, and they particularly hate Salam Fayyad in the West Bank, and they control all movement of all goods and services into Gaza." As a result, the reality of Hamas rule makes the situation in Gaza the square wheel in moving toward progress.
E-mail to a friend

All About Iran • Benjamin Netanyahu • Palestinian Politics