BAGHDAD, Iraq (CNN) -- The Iraqi government implemented new security measures and arrested 11 security officials a day after a string of bombings in Baghdad killed at least 100 people and wounded hundreds more, an interior ministry official told CNN on Thursday.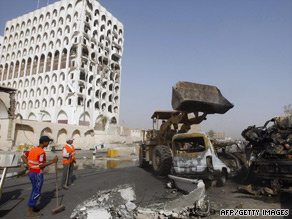 Workers clear up the site outside the ministries of finance and foreign affairs in Baghdad.
The measures, ordered by Prime Minister Nuri al-Maliki, include additional security checkpoints across the capital, more stringent vehicle searches and random security stops.
Iraqi state television also reported that the presidency of Iraq's parliament has called for an emergency session among the heads of parliamentary blocs and the parliamentary defense and security committee on Friday to discuss the security situation.
Iraqi lawmakers are on a one-month vacation.
Eleven high-ranking security officials from the Iraqi army and police were detained for investigation Thursday, said Brigadier General Qassim Atta, a spokesman for the Baghdad Operations Command.
"They are in charge of security in Salhiya and Bab Muadham, two areas of Baghdad targeted in the bombings," Atta said.
Thursday's events follow a late-night meeting that included al-Maliki and Iraq's defense, interior and national security ministers, along with senior representatives from the military and intelligence service.
The six bombings -- two targeting official buildings -- struck Iraq's capital within one hour Wednesday, killing at least 100 people and wounding more than 500.
At least two people were killed Thursday morning when a bicycle rigged with explosives exploded in the Hafdh al-Qadhi commercial area in central Baghdad.
In Babil province, south of Baghdad, at least four people were also killed and 76 were wounded Thursday in a string of bombings, an Iraqi Interior Ministry official said.
Wednesday's bombings marked the country's most fatal day since the United States pulled its combat troops from Iraqi cities and towns nearly two months ago and left security in the hands of the Iraqis.

Watch Arwa Damon's report on Iraq's deadliest day »
Don't Miss
In one attack, a truck bomb exploded outside the Ministry of Foreign Affairs. The blast blew through the front of the building, sending some vehicles flying and leaving others in mangled twists of metal in the area, which is just outside the restricted International Zone, also known as the Green Zone.
Another truck bomb went off outside the Ministry of Finance building and, in central Baghdad, a roadside bomb exploded on Kifa Street.

More photos of Baghdad's deadly day »
A bomb also exploded in the Salhiya neighborhood, where on Tuesday security forces had avoided injuries by successfully defusing a truck bomb.
Wednesday's other two bombs exploded in eastern Baghdad's Beirut Square, officials said.
Two people believed to be connected to the bombings have been arrested, an official with the Iraqi army told CNN on Wednesday.
The two suspects were driving in a car rigged with explosives when they were stopped by Iraqi security forces, the official said. The suspects were believed to be senior al Qaeda leaders, the official said.
The United States pulled its combat troops from Iraqi cities and towns on June 30, leaving security responsibilities to the Iraqis but remaining in a training and advisory capacity. The U.S. military continues to conduct combat operations in areas outside cities and towns.
Since then, al-Maliki has ordered his government to remove the concrete blast walls that line Baghdad's streets and surround whole neighborhoods.
The order does not cover the Green Zone, which houses Iraqi government buildings and the U.S. Embassy, military installations, government institutions, hotels and some private companies.
Following the bombings, the U.S. commander in charge of training Iraqi security forces said he was frustrated with how much remains to be done.
"Clearly, there was a lapse of security or this would not have happened." said Lt. Gen. Frank Helmick, commander of Multi-National Security Transition Command-Iraq, which is training Iraqi security forces.
He said he is experiencing "personal frustration with where we are today" regarding the training of Iraqi troops. Supporting Iraqi forces in the field is a challenge, he said, because many logistical and personnel issues plague the forces.
"It's very, very difficult, and it takes time," he said, "to build an intelligence, surveillance and reconnaissance technician, to build platforms for the Iraqis -- in other words, airplanes with qualified crews, Iraqi crews that can fly them and analyze the data."
U.S. forces will "really have to focus on and accelerate" the pace of training through next year, he told reporters at the Pentagon via video conference from Iraq.
Major incidents of violence in Iraq since 2008 include:
August 7, 2009: At least 42 people were killed and 154 wounded in Baghdad in five attacks on the Shiite religious holiday.
July 9, 2009: A series of attacks across Iraq killed at least 64 people and wound 167 others.
May 20, 2009: A parked car rigged with explosives blew up outside a Baghdad restaurant, killing at least 40 people and wounding 83.
April 29, 2009: Six car bombs in four hours killed 48 and wounded 81 in various Baghdad neighborhoods.
April 23, 2009: Suicide bombers launched two deadly attacks, killing at least 55 people in Diyala province and at least 28 people in Baghdad. Four other people were killed in two separate incidents, bringing the total death toll to 87, with more than 120 wounded.
March 10, 2009: At least 33 people were killed and 20 wounded in a suicide car bombing targeting a national reconciliation conference in Baghdad.
December 11, 2008: A suicide bomber killed at least 55 people at a restaurant in northern Iraq, where Arab and Kurdish politicians were working on ways to ease tensions.
September 12, 2008: At least 30 people were killed and 45 wounded by a suicide car bomb in the town of Dujail, north of Baghdad.
April 15, 2008: A wave of bombings blamed on al Qaeda in Iraq rocked Baghdad and three provincial capitals, killing at least 60 people and wounding more than 100 across Iraq.

March 17, 2008: A female suicide bomber apparently targeting Shiite worshippers killed 50 people and wounded at least 65 in Karbala.
March 6, 2008: Two bomb attacks in a Baghdad commercial district killed 53 people and wounded 125.
E-mail to a friend

CNN's Mohammed Tawfeeq contributed to this report.
All About Iraq • Al Qaeda in Iraq • U.S. Armed Forces Activities