JERUSALEM (CNN) -- Israeli troops are accused in a newspaper article of harvesting organs from dead Palestinians, and Israel wants Sweden's government to condemn the Swedish paper that published it.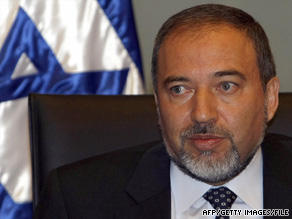 Israeli Foreign Minister Avigdor Lieberman objects to an op-ed piece in a Swedish newspaper.
Israeli Foreign Minister Avigdor Lieberman compared the Swedish Foreign Ministry's hands-off position to the country's neutrality during World War II.
"It's a shame that the Swedish Foreign Ministry fails to intervene in a case of blood libels against Jews," Lieberman told Sweden's ambassador to Israel on Thursday evening. "This is reminiscent of Sweden's stand during World War II, when [it] had failed to intervene as well."
Lieberman plans to submit an official complaint about the matter to his Swedish counterpart, Carl Bildt, according to Israeli Foreign Ministry spokesman Yigal Palmor.
The Swedish ambassador, Elisabet Borsiin Bonnier, rejected the article on Wednesday, a day after it was published in the newspaper Aftonbladet under the headline, "Our sons are being stripped of their organs."
In her statement, Bonnier called it "as shocking and appalling to us Swedes as it is to Israeli citizens," and noted that Sweden's Embassy "cannot but clearly distance itself" from the report.
But Sweden's Foreign Ministry refused to condemn the article, saying that Bonnier's comments reflected the embassy's position and not that of the Swedish government. Both Bonnier and the ministry noted that Sweden has a free press -- which Bonnier said comes with "a certain responsibility" that "falls on the editor-in-chief of any given newspaper."
Don't Miss
"It's a shame that after the Swedish ambassador to Israel did the right thing and condemned the report, clarifying that this newspaper does not represent Sweden in any way or form, the Swedish Foreign Ministry chose to dismiss her statement instead of supporting it," Lieberman said.
"The meaning of freedom of press is the freedom to publish the truth, not the freedom to lie and slander. A country which really wants to defend democratic values must strongly condemn false reports that reek of anti-Semitism like the one published this week by the Aftonbladet newspaper."
Lieberman is also considering revoking Aftonbladet's press credentials in Israel, spokesman Palmor said.
The article was an op-ed piece written by freelance journalist Donald Bostrom, who has traveled to the Middle East numerous times.
Bostrom, who spoke to CNN from Stockholm on Wednesday, said he wrote the piece in reaction to a recently unveiled corruption scandal in New Jersey that allegedly involved the private sale of a kidney from a donor in Israel.
Bostrom stressed that he has no proof that Israeli soldiers were stealing organs, and that the purpose of his opinion article was to call for an investigation into numerous claims in the 1990s that such activity was going on in the West Bank and Gaza. He noted that the allegations came about after former Israeli Prime Minister Ehud Olmert -- then Israel's health minister -- had embarked on a successful mission to increase the number of organ donors in the Jewish state.
His article centers on the case of Bilal Ahmed Ghanem, a 19-year-old Palestinian man who was shot and killed in 1992, allegedly by Israeli forces, in the West Bank village of Imatin.
Bostrom, who witnessed the man's killing, said Ghanem was taken away alive by Israeli forces. His body was returned five days later with a cut in his midsection that had been stitched up. Ghanem's family said they believed that his organs had been removed.
After that incident, at least 20 Palestinian families told Bostrom that they suspected the Israeli military had taken the organs of their sons after they had been killed by Israeli forces, and their bodies taken away -- presumably for routine autopsies.
Bostrom said he balanced those claims in his article by including a reaction from an Israeli military spokesman who told him that the Israel Defense Forces routinely carry out autopsies on Palestinians killed by their troops. But, as he stated in his article, Bostrom said he has doubts about the necessity of the procedures if it is clear how the person died.
A United Nations account said that Ghanem's death was investigated by the Israeli military, which concluded that Ghanem, who it said was 20 years old, "may have been killed when a group of reservists passing through the town opened fire in response to rocks being thrown at them."
Bostrom said the newspaper has stood by its decision to publish his piece. Speaking to CNN just hours after publication, he said he had received hundreds of messages asking him to recant his position, or worse.
"I have an e-mail here ... saying, 'The Nazis should die and you will be next. We will meet you outside, you will be the next news very soon. Meet you outside,' " Bostrom said.
When asked if he was afraid, he said, "Yeah, I'm concerned."
E-mail to a friend

All About Sweden • Israel • West Bank and Gaza Strip