From Jomana Karadsheh
CNN





BAGHDAD, Iraq (CNN) -- The Iraqi government is investigating whether Iraqi security forces were collaborators in this week's deadly bombings in Baghdad, Foreign Minister Hoshyar Zebari said Saturday.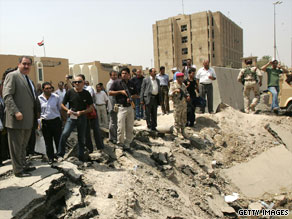 Iraqi Foreign Minister Hoshya Zebari, left, stands at the site of the ministry bombing that killed 32 employees Wednesday.
The Ministry of Foreign Affairs lost 32 employees, and dozens more were wounded in Wednesday's massive suicide truck bomb attack, he said at a news conference. Another truck bomb targeted the Ministry of Finance, and four other explosions went off in the capital.

At least 100 people were killed and more than 500 wounded in the six blasts. The Foreign Ministry was hardest hit by an explosion about a quarter- mile from a checkpoint outside Baghdad's restricted International Zone, or Green Zone.
The attacks, which Zebari described as a "national disaster... a national tragedy," were the deadliest since the withdrawal of U.S. combat troops from Iraqi cities and towns on June 30.
These and other attacks in recent weeks have raised questions about the ability of these forces to maintain security in Iraq as the clock ticks for the deadline for the complete U.S. troop withdrawal from Iraq by December 31, 2011.
Zebari said video from the ministry's closed circuit television showed that the suicide bomber drove his truck, loaded with four tons of explosives, nonstop toward the ministry until he reached his target. The attack must have taken months to plan, he said.
The attackers "did not fall from the sky or another planet. They had technical and logistical support," Zebari said. Anyone who helped facilitate the bombing must be "held responsible."
Zebari said security orders ban large trucks from traveling in certain parts of the capital, such as the International Zone and other sensitive Green Zone and sensitive areas around ministries.
Don't Miss
Zebari said the prime minister and security chiefs believe that collaboration was possible, so senior officials have been detained.
"According to our information, there has been a collaboration between Iraqi security officers and these murders and killers. Those people who are responsible, who are incompetent, who may have collaborated or facilitated to allow these trucks to reach this target should be held responsible."
Prime Minister Nuri al-Maliki on Saturday defended his security forces while vowing to punish anyone involved in the attacks.
"We have taken decisive steps and measures to deal with the weaknesses and failures the terrorists used to carry out their crime," he said. "We will punish anyone who proves to have collaborated or failed to stop these crimes."
Al-Maliki blamed the attack on an alliance between members of the ousted Baath party and al-Qaeda, saying the bombings were intended to create chaos and a conflict between political powers ahead of the country's January elections.
On Thursday, Iraqi officials announced that 11 senior security officials in charge of the foreign and finance ministry areas were detained for questioning.
On Friday, the Iraqi military said it had arrested members of a cell believed responsible for Wednesday's attacks.
Maj. Gen. Qassim Atta, spokesman for Baghdad Operations Command, appeared on Iraqi state television Friday night to announce the arrests, which he said were made within two hours of the bombings. Those arrested include people believed to have planned and executed the attacks, Atta said.
Initial investigations show a link between the cell and the ousted Baath regime of Saddam Hussein, Atta said. Authorities are also seeking people thought to have provided cell members with logistical support.
The truck bombing outside the Foreign Ministry blew through the front of the building, sending some vehicles flying and twisting others into chunks of metal.
Zebari also blamed the government for creating a false sense of security in the country that has led to the recent removal of blast walls near the ministry and a key checkpoint.
"There were some measures to remove blast walls and barriers and there was a ... checkpoint that was removed as a result of this excessive sense of the firmness of the internal security situation and statements," Zebari said. "Unfortunately, we accepted these measures as part of our responsibility to abide by what the government decides."
In recent months, the Iraqi government has been trying to restore normalcy to the streets of the capital. Prime Minister Nuri al-Maliki ordered his government to take down within 40 days the concrete blast walls that line Baghdad's streets and protected neighborhoods at the height of the war. Many Iraqis have criticized the move as premature.
Iraq's top diplomat had harsh words for Iraqi security forces and some government rhetoric; he said steps should be taken to to address the "laziness and carelessness. This should be fought through an organized security effort, not statements," he said.
Regarding the arrests announced Friday, the Iraqi government in the past has made claims of arrests that did not hold up.
In April, it claimed it had captured Abu Omar al-Baghdadi, the head of al Qaeda in Iraq's umbrella group, the Islamic State of Iraq. The Islamic State of Iraq denied it, and the capture was never confirmed by the U.S. military.
Zebari said the Iraqi government and its forces were capable of providing security for the people, but on Wednesday they failed. He criticized the performance of these forces and their approach to security.
"The government and Iraqi security forces doing its best, but we are static in approach to security, the enemy is mobile; don't fight them with fixed checkpoints, lazy officers."
Zebari added that the forces should be more proactive and said disruption of terror groups is key for success.
As Zebari was addressing the media inside what was left of his ministry, concrete blast walls were being erected outside.
E-mail to a friend

CNN's Arwa Damon and Mohammed Tawfeeq contributed to this report.
All About Nuri al-Maliki • Baghdad • Baghdad Green Zone