TEHRAN, Iran (CNN) -- Top Iranian military officials have called for even faster prosecutions and demanded "swift retribution" for post-election detainees, despite more than 100 Iranians going through mass trials this month, Iranian media reported.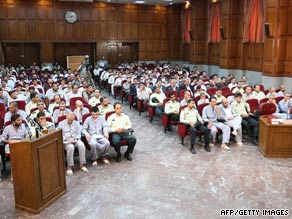 Suspected opposition supporters (in grey) attend their trial in Tehran, Iran, on August 16.
The detainees were among those arrested amid protests against the disputed election, in which hard-line President Mahmoud Ahmadinejad was declared the overwhelming winner. The protests sparked a brutal government crackdown that led to thousands of arrests, scores of injuries and at least 30 deaths.
Most of those arrested were released, judiciary officials said, although several dozen face charges as part of the mass trials.
"Iran is not in a situation where it can afford to lose time for prosecuting rioters," said Brig. Gen. Seyyed Massoud Jazayeri, deputy chief of Iran's armed forces, according to state-run Press TV. "National security calls for swift retribution for rioters."
Jazayeri warned against even small demonstrations, echoing hard-line accusations that protests are part of a "velvet coup" to overthrow the government.
Sporadic protests continue, even though massive demonstrations that defined the aftermath of the June 12 elections have subsided, Press TV reported.
Meanwhile, a reformist news site reported "unprecedented" levels of security forces at University of Shiraz, one of the first colleges to reopen after the post-election unrest.
On Sunday night students at the Shiraz campus chanted "God is great" and "Death to the dictators" into late hours, Norooz News reported Monday. Members of the Basij militia -- a voluntary force that reports directly to the Islamic guard -- have stepped up their presence, keeping a "watchful eye" on students Monday and kept clusters of students to a minimum, Norooz said.
About 400 protesters -- 100 of them students -- were arrested June 16 in demonstrations in Shiraz, a city known historically for the arts and poetry in southwest Iran, according to Norooz.
Brig. Gen. Yadollah Javani, head of the Islamic Revolution Guards Corps -- a branch of the armed forces -- blamed opposition candidates Mir Hossein Moussavi and Mehdi Karroubi, who called the election fraudulent, for the violence that plagued the protests.
"In this election, for the first time, certain candidates claimed fraud and, by causing unrest, killed and injured many, including eight members of the Basij," Javani said, according to Press TV.
E-mail to a friend

All About Iran • Iranian Politics