(CNN) -- Iran resumed Tuesday its mass trial of political reformists it has accused of trying to overthrow the government in the wake of the disputed presidential election in June, according to state-run media reports.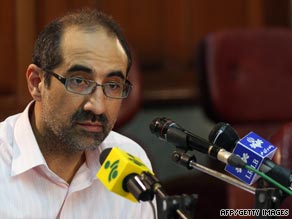 Iranian-American Kian Tajbakhsh is among those on trial.
The nearly 100 people on trial in Iran's Revolutionary Court include journalists, reformist leaders, and former government ministers.
Saeed Hajjarian, a reformist journalist and former adviser to President Mohammed Khatami, testified during Tuesday's court session, according to Fars News Agency.
He "confessed" that he met with Kian Tajbakhsh, an Iranian-American who is also on trial, "in a bid to stage a velvet revolution in Iran," Fars reported.
"During the meetings we agreed to activate NGOs (non-governmental organizations) in Iran and also we aimed to reinforce the civil society (for civil disobedience)," Hajjarian was quoted by Fars as testifying.
"We were also supposed to use the experiences of the Soros Foundation in staging a velvet revolution," he added.
Don't Miss
Tajbakhsh was an independent consultant and urban planner employed by U.S. philanthropist George Soros' Open Society Institute. When contacted by CNN, a spokeswoman for the Soros Foundation said they are aware of the report and are working on a statement in response to the allegation.
Tajbakhsh -- the only American on trial in Tehran -- resigned from his position with the foundation after he was arrested and detained for four months in 2007 on unspecified charges. He holds dual citizenship in Iran and the United States.
Earlier this month, the State Department expressed its deep concern over Tajbakhsh's detention and trial and has called on Iran to release him.
He is one of more than 1,000 people arrested after a massive government crackdown following the June 12 election.
Iran's election authority declared incumbent President Mahmoud Ahmadinejad the overwhelming winner of the race. Opposition supporters accused the government of fraud.
Among the defendants who have been on trial this month are Seyyed Mohammad Abtahi, a former Iranian vice president; and Maziar Bahari, an Iranian-Canadian reporter for Newsweek magazine.
U.S. Secretary of State Hillary Clinton said the trial, which began earlier this month, is a "sign of weakness" and shows that the Islamic republic "is afraid of its own people."
"It is a show trial, there's no doubt about it," Clinton told CNN's Fareed Zakaria on his "GPS" program. "It demonstrates I think better than any of us could ever say that this Iranian leadership is afraid of their own people, and afraid of the truth and the facts coming out."
E-mail to a friend