TEHRAN, Iran (CNN) -- Foreign influences are not to blame for Iran's post-election violence, the nation's supreme leader has said, according to state-run media.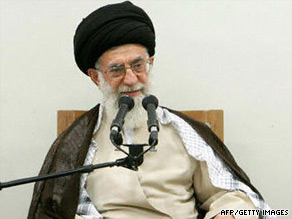 Ayatollah Khamenei warned that courts should not use "rumors" to prosecute alleged post-election detainees.
"I don't accuse the leaders of the recent incidents of being affiliated with foreign countries, including the United States and Britain, since the issue has not been proven for me," Ayatollah Khamenei told a group of university students on Wednesday, Iran's Islamic Republic News Agency reported.
"But there is no doubt that the events were planned, no matter whether their leaders knew it or not."
Iranian officials, including hardline President Mahmoud Ahmadinejad, have previously claimed that nations such as the United States and Britain have meddled in Iranian affairs since elections in June, without offering proof. Ahmadinejad has has warned of repercussions over the alleged meddling.
Gholam-Hosein Mohseni Ejei, Iran's intelligence minister, on Sunday blamed Western powers for stirring up protests. The British Embassy in Tehran "played a heavy role in the recent disturbances," he said, adding that the United States led the effort.
"The fact that Iran is stable, calm and secure, they're upset with this," Ejei told Iran's Press TV in late June.
Hundreds of thousands of Iranians took to the streets for more than two weeks to protest the June 12 election results, calling them fraudulent after Ahmadinejad was declared the overwhelming winner.
More than 1,000 people were arrested in a government crackdown, and Iran said at least 30 people were killed in post-election violence.
More than 100 Iranians are going through mass trials this month. Top military officials have called for faster prosecutions and demanded "swift retribution" for post-election detainees, Iranian media have reported.
Don't Miss
Khamenei warned Wednesday that the judiciary should not use "rumors" as the basis for their prosecution, and should try them on strong evidence.
Two opposition leaders unsuccessfully challenged the results for weeks, and Ahmadinejad was sworn in for his second term in early August.
Brig. Gen. Yadollah Javani, head of the Islamic Revolution Guards Corps -- a branch of the armed forces -- has blamed candidates Mir Hossein Moussavi and Mehdi Karroubi, who called the election fraudulent, for the violence that plagued the protests.
The government has gone after the protesters themselves in mass trials that have been denounced internationally. Among those appearing in court are two French and British embassy employees and a French citizen.
Iran has said that many of the defendants have confessed to helping Britain and the United States instigate the unrest.
E-mail to a friend