From Jomana Karadsheh
CNN





BAGHDAD, Iraq (CNN) -- Tens of thousands converged Friday on the streets of Baghdad to pay final respects to one of Iraq's top Shiite leaders.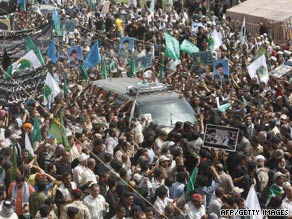 Mourners on Friday follow a van carrying the coffin of late Shiite leader Abdul Aziz al-Hakim in Baghdad.
Security was tight for the funeral procession of Abdul Aziz al-Hakim, who died in Iran on Wednesday of lung cancer.
The streets leading to the Kadhimiya district were sealed off Friday, and Iraqi air force helicopters hovered overhead.
Sobbing mourners beat their chests and heads, a traditional Shiite way of mourning. They swarmed around the coffin trying to touch it as it was carried into the Kadhimiya shrine, one of Shiite Islam's holiest.
The funeral procession began earlier Friday at Baghdad International Airport, where Al-Hakim's body arrived from Iran. Top Iraqi officials and Western diplomats, including Britain's ambassador to Iraq, Christopher Prentice, were there, along with Iraqi President Jalal Talabani and Prime Minister Nuri al-Maliki.
The funeral procession then went to the Buratha mosque near Kadhimiya. At Buratha, Friday prayers were led by al-Hakim's likely successor, his eldest son, Ammar.

Watch how al-Hakim helped to shape Iraq »
As people packed the party's main mosque in the capital, many sat crying as they listened to Ammar al-Hakim talk about his father's life and his final days in a Tehran, Iran, hospital.
Don't Miss
Al-Hakim had lived in exile in Iran for more than 20 years, finally returning to Iraq in 2003 after U.S.-led forces toppled Saddam Hussein and his regime.
"It was very emotional for me to meet with my people after Saddam fell," the Shiite leader told CNN in 2006. "I was longing to see them. My goal in this life is to serve those great people, and I am very proud to be a part of them."
Iraqi Shiites were suppressed under Hussein's regime, which favored the country's minority Sunni Muslims.
After his return, al-Hakim played a central role in shaping Iraq's future. He urged Iraqis to shun bitter sectarian conflict after Hussein's fall.
Al-Hakim, who was born in 1950, was considered one of Iraq's most powerful men. Though he never held a government position, his political bloc won the most seats in the Iraqi parliament in 2005.
President Bush considered him an ally and called him when talks on the Iraqi Constitution stalled. He visited the United States three times during the Bush administration to discuss the situation in Iraq.
Ammar al-Hakim's address and eulogy on Friday also had political messages. He described how his father, in an unconscious state Monday, signaled his approval for the newly formed mainly Shiite alliance ahead of Iraq's elections.
The Iranian-backed alliance that was announced Monday included all of Iraq's top Shiite parties, but excluded al-Maliki's Dawa party.
In a not-so-subtle hint to the prime minister and his party, Ammar al-Hakim also used the occasion to send a message to parties that did not join the alliance, telling them to reconsider their decision.
Al-Hakim's party, the Islamic Supreme Council of Iraq, lost much of its popularity in recent years. In January's provincial elections, it lost much of its control in the south and Baghdad to al-Maliki's candidates.
The Shiite leader's death comes at a critical time in Iraq, with fractures in Shiite politics and an uncertain future for his party and for Iraq. Al-Maliki acknowledged as much when he spoke earlier Friday at the Baghdad airport.
Ammar al-Hakim, who has been groomed for years to take over party leadership, is the most likely successor. The senior members of the party, known as its Shura Council, will vote on leadership in the coming days.

Al-Hakim's casket now will make its way to Iraq's Shiite heartland in the south.
Al-Hakim is expected to be buried in the holy city of Najaf on Saturday, exactly six years after his brother Mohammed Baqer al-Hakim was assassinated in a car bombing that killed dozens of others near the Imam Ali Shrine in that city.
E-mail to a friend

All About Iraq • Shia Islam • Abdul Aziz al-Hakim