From Jomana Karadsheh
CNN





BAGHDAD, Iraq (CNN) -- At a time of uncertainty in Iraq, Shiite leader Abdul Aziz al-Hakim's final wish was for national unity, according to his son.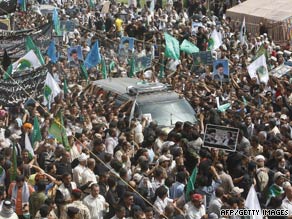 Mourners on Friday follow a van carrying the coffin of late Shiite leader Abdul Aziz al-Hakim in Baghdad.
Al-Hakim's eldest son, Ammar al-Hakim, read to a crowd of tens of thousands of mourners Saturday what he said was his father's will.
In it, he said, his father asked Iraqis to unite, to preserve the constitution and to take part in elections, which he described as "a religious and national duty."
The reading and burial procession from the crowded narrow streets of the holy Shiite city of Najaf was broadcast on al-Forat TV, the television station of the elder al-Hakim's political party, the Islamic Supreme Council of Iraq.
Attendees looking to pay their final respects watched as the flag-draped coffin with the leader's family turban atop it was paraded through his birthplace.
Crowds of mourners pushed to get close enough to touch the casket. As the casket was carried out of the vehicle, security forces had to push back dozens of mourners who were sobbing as they tried to touch the coffin and carry it.
Al-Hakim, who was born in 1950, died Wednesday in Tehran, Iran. He had been receiving treatment for lung cancer, to which he eventually succumbed. He lived in exile in Iran for more than 20 years, finally returning to Iraq in 2003 after U.S.-led forces toppled Saddam Hussein and his regime.
After his return, al-Hakim pushed for peace, urging Iraqis to shun bitter sectarian conflict after the fall of Hussein. Iraqi Shiites were suppressed under Hussein's regime, which favored the country's minority Sunni Muslims.
Despite al-Hakim's desire for a secular democracy in Iraq, he wanted a country that recognized the importance of religion and its authorities. Though he never held a government position, the political bloc he headed won the most seats in the Iraqi parliament in 2005.
Ammar al-Hakim said that his father asked in his will that Shiites continue to commemorate religious ceremonies. Under Hussein, Shiites were banned from carrying mass religious rituals.
Abdul Aziz al-Hakim, who used religious occasions as a political platform to rally the masses, also wanted Shiites to follow the Marjiyya, the Shiite religious authority, his son said while reading the document.
Earlier Saturday, thousands of mourners in the holy city of Karbala took part in al-Hakim's funeral procession by the shrines.
Al-Hakim was buried next to his brother Mohammed Baqir al-Hakim. Saturday marked the six-year anniversary of his brother's assassination in a car bombing in Najaf that also killed and wounded dozens.
E-mail to a friend

All About Saddam Hussein • Sunni Islam • Iraq • Abdul Aziz al-Hakim