ISTANBUL, Turkey (CNN) -- Turkey's top diplomat is shuttling between Baghdad and Damascus Monday, in an effort patch up differences between its two neighbors, Syria and Iraq.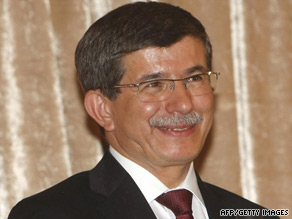 Turkish Foreign Minister Ahmet Davutoglu is looking to restore relations between Iraq and Syria.
"Our foreign minister's visit has the objective of reducing tensions between the two sides," said Turkish Foreign Ministry spokesman Burak Ozugergin.
He spoke to CNN by telephone from Baghdad, moments after Turkish Foreign Minister Ahmet Davutoglu emerged from a meeting with Iraqi Prime Minister Nuri al-Maliki.
"We will head to Damascus in a few hours and convey to them the feelings of the Iraqi side," Ozugergin said.
A string of bombings struck Iraq's capital on August 19, with two truck bombs ripping through the Iraqi Finance Ministry and Foreign Ministry. At least 100 people were killed and hundreds more were wounded in Baghdad's bloodiest day since U.S. troops handed over security control to Iraqi forces and moved outside of Iraqi cities nearly two months ago.
The Iraqi government accused two Iraqis living in Syria of playing "direct roles in the execution of the terror attack." Baghdad has demanded Damascus hand over the suspects.
The Islamic State of Iraq, the umbrella group for al Qaeda in Iraq, has claimed responsibility for the bombings, which Syria has condemned.
Syria and Iraq withdrew their ambassadors from each others' capitals in the wake of the attacks.
Turkish Minister Davutoglu is expected to meet with Syrian president Bashar al-Assad later Monday. Turkey enjoys warm relations with Syria and its ties have improved dramatically in recent months with the Baghdad government.
Washington appears to have taken an interest in the Turkish diplomatic initiative. Turkish officials say U.S. Secretary of State Hillary Clinton called Davutoglu Sunday night. One of the topics discussed was Davutoglu's trips to Baghdad and Damascus.
While al-Maliki told the visiting Turkish foreign minister that his country is keen to establish better relations with Syria, he also stressed that he is still demanding that Damascus hand over the two main wanted suspects -- Mohammed Younis al-Ahmed and Sattam Farhan -- as well as others who use Syria as a base for attacks in Iraq, according to a statement from the prime minister's office.
Iraq says that 90 percent of terrorists of various Arab nationalities slip across the Iraq-Syrian border, the statement said.
Days after the August 19 attack, the Iraqi government released what it said was a confession from a man who said he received orders for the bombing of the Finance Ministry building from a member of former Iraqi President Saddam Hussein's Baath Party who now lives in Syria.
The videotaped statement from Wissam Ali Kadhim Ibrahim, who was identified as a former Baathist police official, aired on Iraqi television. Ibrahim said he received orders from Sattam Farhan, who he said was a Baath Party leader in Syria.
The Iraqi government had put al-Ahmed as the No. 2 man on a most wanted list it released in 2006, and the U.S. government had announced a $1 million reward for him two years earlier.
The spokesman for al-Ahmed's wing of the Baath party in Syria contended that the videotaped statement was fabricated and alleged that the man could have been paid to make it.
The spokesman said the paths and ideologies of the party could never meet with those of al Qaeda, and blamed the attacks on struggles between Shiite parties in Iraq.
Some mid-level and senior members of the Baath party sought refuge in Syria after the U.S. invasion that ousted Hussein in 2003. Al-Maliki asked for the handover of some of those ex-officials during a visit to Damascus last week, Iraqi officials said.
In a statement to Syria's state news agency, a Syrian official denied the Iraqi accusations, saying they were based on "fabricated evidence intended to serve internal political goals." The Syrian government has also expressed its willingness to help the Iraqis investigate this month's attacks.
E-mail to a friend

CNN's Ivan Watson in Istanbul, Turkey, Jomana Karadsheh and Mohammed Tawfeeq in Baghdad, Iraq, contributed to this report.
All About Saddam Hussein • Sunni Islam • Iraq • Abdul Aziz al-Hakim