(CNN) -- Iran is spending more time investigating the victims of torture and rape behind bars than investigating those who committed such abuses, a human rights group claimed Thursday.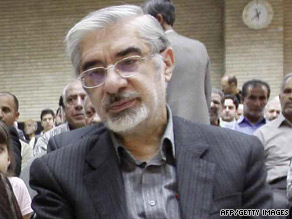 Iranian opposition leader Mir Hossein Moussavi, seen in July, accused the current regime of torturing detainees.
Amnesty International has been monitoring reports about the treatment of detainees arrested in the bloody fallout over the Islamic republic's disputed June 12 presidential election. On Thursday, the group called on Iran's Supreme Leader Ali Khamenei to ensure the safety of the victims and hold the abusers accountable.
"The Iranian authorities appear more intent on finding the identities of those who claim to have been tortured by security officials than in carrying out an impartial investigation so that the perpetrators can be brought to justice," Amnesty International chief Irene Khan said.
Amnesty's statement came after Iranian security forces raided the offices of two major reformists -- Mehdi Karrubi and Mir Hossein Moussavi -- this week, confiscating documents pertaining to the cases of detainees alleging rape and torture, according to Iranian media.
Iranian government officials did not immediately respond to the group's demands.
Moussavi -- chief rival to incumbent President Mahmoud Ahmadinejad in the presidential race -- and fellow candidate Karrubi have accused the current regime of allowing rape, torture, wrongful deaths and secret burials of several detainees.
Despite warnings from Iran's hardline leaders, the reformists have refused to back down. Last week, they released the names of 72 protesters killed in the unrest that followed the election, in which Ahmadinejad was declared the overwhelming winner. That figure is more than double the government's official number.
More than 1,000 people were arrested in the government crackdown that followed the election, and more than 100 of them have been going through mass trials since August. Top military officials have called for faster prosecutions and demanded "swift retribution" for post-election detainees, Iranian media reported.
Karrubi, a former parliamentary speaker, has been especially vocal about the claims of detainee rape -- even publishing the first-hand account of one alleged victim on his Web site last month. He has been scorned by government hardliners, whose credibility and legitimacy have been publicly questioned in recent months.
Karrubi's claims have sparked outrage from human rights groups, including Amnesty International, which alled on Khamenei to authorize an independent inquiry and allow international experts to participate in the investigation.
"The supreme leader must intervene and ensure that there is no cover up of the grave abuses committed against those who challenge the official election result," Khan said Thursday. "In particular, he must ensure that victims of rape, torture and other abuses are fully protected against reprisals or further abuse at the hands of those who tortured them."
Khamenei warned the judiciary last month not use "rumors" as the basis for prosecution.
Iran's powerful conservative parliamentary speaker, Ali Larijani, said a special committee of Iran's parliament, or Majlis, conducted a "precise and comprehensive inquiry" into the treatment at Tehran's Evin and Kahrizak prisons, and found "no cases of rape or sexual abuse," government-funded Press TV has reported last month.
He accused Karrubi of spreading "sheer lies."
Still, the special parliamentary committee had agreed to review Karrubi's evidence and meet with at least four individuals who say they were tortured and raped while in prison, according to the Web site of Karrubi's Etemad-e Melli (National Trust) party.
Moussavi and Karrubi organized teams to look into the cases, speak to the detainees and their families and document the abuse allegations.
Those documents were confiscated during the raids by Iranian security forces, and two members of the reformists' investigative committee were arrested this week, Moussavi said in a statement posted on his Web site Tuesday.
"They are now in prison, while the perpetrators of the recent crimes are free and the authorities claim that they will investigate the perpetrators of the recent tragedies," Moussavi said, in remarks aimed at the government. "Are you doing this by destroying evidence of crimes and arresting those who pursue the freedom of the people?"
E-mail to a friend

All About Iran • Amnesty International • Mehdi Karrubi • Mir Hossein Moussavi