(CNN) -- The head of Iran's Atomic Energy Organization said Saturday that U.N. nuclear experts can inspect a uranium enrichment plant, according to a report from Iran-funded Press TV.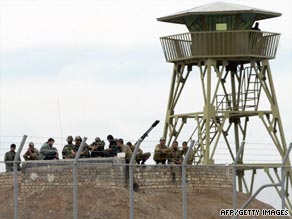 Iranian soldiers are shown in the uranium enrichment facility in Natanz, 300 kms south of Tehran, in 2006.
Ali Akbar Salehi said officials are trying to settle on a date for the inspection by the International Atomic Energy Agency.
GeoEye, a U.S.-based satellite imagery company, released two photos dated Saturday from what it says is the second facility. The image shows quarry equipment, a surface-to-air missile site, and more construction equipment surrounding a mountain, according to image analysis by IHS Jane's, an intelligence firm.
Iranian President Mahmoud Ahmadinejad said Friday that Iran was building a second uranium enrichment facility near the Shia Muslim city of Qom, about 100 miles southwest of Tehran. He said the plant won't be operational for about 18 months.
Ahmadinejad told reporters Friday that Iran had met IAEA requirements by informing it about the plant at least six months before it is slated to begin operating.

Watch Ahmadinejad hit back at Obama »
The watchdog agency confirmed that it received a letter Monday from Iran revealing the existence of the underground facility on a military base. Iran told the IAEA there is no nuclear material at the site, an agency spokesman said.
Iran has denied its goal is to develop nuclear weapons, a concern of the United States and other Western nations.
Esmail Kowsari, a senior Iranian lawmaker, said Iran's need for nuclear fuel is outpacing the limited amount of uranium it can enrich at its only other plant in Natanz.
But Iran's activities, along with its anti-Western and anti-Israel rhetoric, have troubled international powers working to stop the development of an Iranian nuclear program.
The country's Islamic Revolutionary Guard Corps said it is planning to stage "massive missile exercises" or war games on Sunday to promote the armed forces' "deterrent power," the semi-official Fars News Agency reported. The tests are code named "Payambar-e Azam 4, or "The Great Messenger," the corps said in its announcement.
Iran's announcement came ahead of a planned meeting October 1 between it and the five permanent United Nations Security Council members, plus Germany. Leaders from the United States, France and Britain made a joint announcement, accusing Iran of violating international agreements by keeping the construction plan a secret.
"This is a serious challenge to the global non-proliferation regime and continues a disturbing pattern of Iranian evasion," President Obama said Saturday in his weekly radio address.
"That is why international negotiations with Iran scheduled for October 1 now take on added urgency," he said.
"My offer of a serious, meaningful dialogue to resolve this issue remains open. But Iran must now cooperate fully with the International Atomic Energy Agency and take action to demonstrate its peaceful intentions."
Don't Miss
Ali Asghar Soltanieh, Iran's ambassador to the IAEA, told Press TV Saturday that Iran is "very disappointed with the hasty, unjustified hostile reaction yesterday by three leaders." He was referring to Obama, French President Nicolas Sarkozy and British Prime Minister Gordon Brown.

Watch world leaders react to Iran »
"What I suspect is a hidden agenda, which is going to jeopardize our excellent cooperation with the IAEA, and perhaps long-term jeopardize the integrity and credibility of the IAEA," he said. "We are working with the agency in a very technical and smooth manner to arrange the inspection to the site."
Other Iranians also reacted to the criticism over the new plant. iReport.com: Dissidents discuss Iran enrichment plants
"God willing, this plant will be put into operation soon, and will blind the eyes of the enemies," Fars reported Saturday, quoting a senior Iranian official.
The senior official, Hojjatoleslam Mohammad Mohammadi Golpayegani, heads the office of the country's supreme leader, Ayatollah Ali Khamenei.
Also Saturday, the Web site of the Iran Student News Agency carried comments from an Iranian legislator who warned Western nations not to make Iran regret its cooperation with the IAEA.

"Western countries and the U.S. must not make Iran regret its cooperation with the IAEA beyond its legal obligations," said Alaeddin Boroujerdi, chief of the Iran Parliament Commission for National Security and Foreign Policy.
He said Western criticism of Iran's new facility is an "illogical and unrealistic" smear campaign.
E-mail to a friend

CNN's Ed Henry, Dan Lothian, Pam Benson, Matthew Chance and Moni Basu contributed to this report.
All About Iran • International Atomic Energy Agency