By Hamid Dabashi
Special to CNN





Hamid Dabashi is the author of "Iran: A People Interrupted." He is Hagop Kevorkian Professor of Iranian Studies and Comparative Literature at Columbia University in New York. His Web site is http://www.hamiddabashi.com/.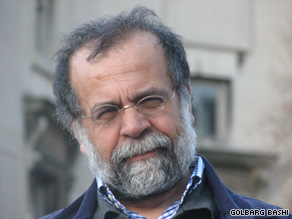 Hamid Dabashi says Katie Couric's lapse allowed Mahmoud Ahmadinejad to score points in his interview.
NEW YORK (CNN) -- One of the most memorable episodes of the U.S. presidential election of 2008 was the much-publicized September 2008 interview that CBS Evening News anchor Katie Couric did with Republican vice presidential candidate and then-Alaska Gov. Sarah Palin.
Quite a number of embarrassing revelations dawned on the American presidential election scene after that interview, including the fact that the person potentially a heartbeat away from U.S. presidency could not name a single newspaper or magazine that she regularly read.
The interview turned out to be so crucial a piece in the course of the presidential campaign that it garnered for Couric the much coveted Walter Cronkite Award for Excellence in Television Political Journalism, with the judges considering that interview a "defining moment in the 2008 presidential campaign."
As fate would have it exactly a year after that fateful interview, Katie Couric was destined to have an embarrassing Sarah Palin moment of her own.
In the course of a much anticipated interview with the belligerent Iranian President Mahmoud Ahmadinejad, Couric raised the all-important murder of Neda Aqa Soltan while discussing post-election violence in Iran -- which Ahmadinejad dismissed as an unfortunate event that he said occurred because of chaos instigated by the United States and United Kingdom.
Don't Miss
Faced with Couric's follow-up question, and obviously performing a well-rehearsed move, Ahmadinejad then produced a picture, showed it to Couric and asked her point blank: "Do you know [the woman in] this picture?" Couric looked at that picture for a second and said "No."
Ahmadinejad knew at that moment he had his interlocutor where he wanted and drove the point even further and repeated his question, now producing a second picture, "Do you know this woman?" Couric again said, "No."
Then, Ahmadinejad immediately went for the kill. "Well, you can't be blamed for not knowing her." American politicians didn't want her to know about that woman, while they had helped turn Neda Aqa Soltan into a cause célèbre to instigate world opposition to the Islamic Republic, Ahmadinejad said.
Neda Aqa Soltan was killed in the course of a riot in Iran, he concluded, but the woman in those pictures was murdered in a German court of law. How come she did not know about that woman, while grilling him on Neda Aqa Soltan? He scored a point not just against a leading American journalist, but against reason, sanity and decency.
There are more holes in Ahmadinejad's point than in that proverbial Swiss cheese, none of which seemed to have occurred to Couric, including the fact that the woman in that picture, Marwa Ali El-Sherbini, was the victim of a singularly vicious act of a neo-Nazi racist, while Neda Aqa Soltan was one among many other victims of violence at the hands of the security apparatus of the Islamic Republic.
We might pause for a moment and ask why it is that she did not know who El-Sherbini was and how she was murdered. Hopefully the answer is not because she has a scarf in that picture and Couric can't tell one scarved woman from another.
The case cannot be dismissed as one of an uninformed journalist ill-prepared for an interview with a master of diversionary tactics -- Couric is a superbly competent, courageous and tenacious journalist. So the question is what happened to all those fine qualities, perfectly on display when interviewing Sarah Palin, when Couric interviewed Ahmadinejad?
The tragic case of Marwa Ali El-Sherbini has been in the news all over the world and of course throughout the Arab and Muslim world, and particularly, in Europe. The Iranian state-controlled media has been citing the case of Marwa Ali El-Sherbini ever since Neda Aqa Soltan was killed and the world began to pay attention to her murder to show "the hypocrisy of the Western media." And lo and behold a star of "the Western media," sitting on the seat where once Walter Cronkite sat, was sitting there a perfect case in point.
Compared to this moment, Couric was in much better shape confronting Ahmadinejad about his denial of the Holocaust with a picture of the victims of a German concentration camp, asking him if this photo she showed him was a fabrication.
Ahmadinejad wanted to dodge the question by yet another rhetorical question, that many atrocities have happened and "why is this one in particular so important to you," Couric retorted back with a quick jab, "because you are denying it."
Ahmadinejad's running-for-cover argument that he cares for all the 60 million people killed during the World War II was by virtue of that single staccato interjection now completely silly and futile. The successful case Couric made for the reality of the Holocaust makes her failure about Marwa Ali El-Sherbini even more striking.
The answer to the puzzle of Katie Couric's Sarah Palin moment is neither in any conspiracy of the "Western media" to cover up the case of Marwa Ali El-Sherbini nor the incompetence of an inexperienced journalist unprepared for an important interview.
The answer is in an endemic provincialism that still very much defines American journalism. There is often a fundamental analytic split between issues that have domestic importance, such as the conduct of the Iranian regime in handling the election protests, and those which Americans tend to view as purely foreign issues, such as the German courtroom killing.
Until we eliminate that split, in a shrunken world no longer divisible into domestic or foreign categories, we won't see that world more clearly.
The enduring lesson for the professional journalist of the next generation is to not just be familiar with the internal affairs of a country whose head of state is being interviewed but also to have a comparative and trans-regional perspective to fend off diversionary tactics.
For personifying that lesson and letting Ahmadinejad score points, Couric's failure can affect the future of American journalism in a far more enduring way than her stellar success when she interviewed Palin.
The opinions expressed in this commentary are solely those of Hamid Dabashi.
E-mail to a friend

All About Mahmoud Ahmadinejad • Katie Couric