JERUSALEM (CNN) -- A "proof-of-life" video of an Israeli soldier kidnapped by Palestinian militants more than two years ago was made public Friday, after its delivery led to the release of Palestinian women prisoners.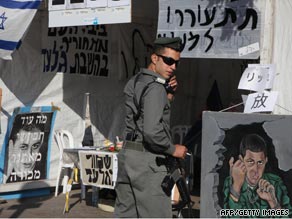 An Israeli border policeman walks past a painting of abducted Israeli soldier Gilad Shalit on Sept 30.
The video shows Gilad Shalit sitting in a chair, reading a newspaper dated September 14, 2009. "For a long time I've been waiting for the day to be released," Shalit says. "I feel well in health terms and I'm being treated very well."
Speaking of his family, he says, "I miss them very much, and I am longing for the day when I will see them again."
Israel released 19 Palestinian female prisoners Friday in exchange for the videotape, Israeli officials said. The International Committee of the Red Cross said it transported the Palestinians from Ofer detention camp outside Jerusalem.
Eighteen were released to the Beitunya crossing in the West Bank; the 19th to the Erez crossing in northern Gaza, according to an ICRC statement identifying the drop-off points.
The International Committee of the Red Cross said it transported the Palestinians from Ofer detention camp outside Jerusalem.
The former prisoners were brought to the area in a procession of Red Cross vans and military jeeps.
"Our role is strictly humanitarian and part of our ongoing work to restore and maintain contact between people detained in relation to armed conflict and their families," Pierre Dorbes said in the Red Cross statement. Dorbes is the organization's deputy head of delegation in Israel and the Palestinian territories.
The deal was brokered indirectly by Egypt and Germany. A German mediator handed over the tape of Shalit to the Israelis Friday morning, Israeli government officials said.

CNN's Kevin Flowers explains handover »
The Israelis have lined up a host of officials to screen the footage of Shalit, the first time ever that the militant Palestinian group Hamas has offered a proof-of-life video.
Among those scheduled to examine the tape is Israeli Prime Minister Benjamin Netanyahu, who earlier this week said it was "important that the entire world know that Gilad Shalit is alive and well, and that Hamas is responsible for his well-being and fate."
Palestinian militants crossed into Israel from Gaza on June 25, 2006, and kidnapped Shalit, who was 19 at the time. Israel and Hamas have been negotiating his release through third-party mediators from Egypt and Germany, but talks have started and stalled numerous times.
For Shalit's family, one minute of film could ease three years of uncertainty. They, too, will screen the video.
"We will regard it as a very positive step if the family of Gilad Shalit receives a sign of life from their son," Dorbes said.
Israeli officials have not said whether the footage will be publicly released. That will probably depend on Shalit's condition and the wishes of his family.
Israel said it will continue to negotiate for Shalit's release, but it expects the talks will be "long and arduous."

Shalit's freedom has become a condition for the Israelis to consider ending a blockade of Gaza, which has economically wounded the Palestinian territory.
The United Nations recently issued a scathing report accusing Israel of war crimes during its military offensive in Gaza last winter. But it also called on the Palestinians to release Shalit on humanitarian grounds.
E-mail to a friend

CNN's Kevin Flower in Jerusalem contributed to this report.