Editor's note: Fareed Zakaria is an author and foreign affairs analyst who hosts "Fareed Zakaria: GPS" on CNN on Sundays at 1 and 5 p.m. ET.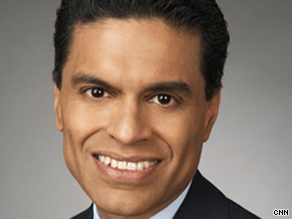 Fareed Zakaria says living with a nuclear Iran might be a better option than launching a military strike.
NEW YORK (CNN) -- President Obama called on Iran to provide the U.N. nuclear watchdog agency with "unfettered" access to the newly disclosed Qom uranium enrichment site, and Tehran's nuclear negotiator said the country would cooperate with inspectors.
Iran says it plans to cooperate "fully" and "immediately" with the U.N. nuclear agency and will invite representatives of the body to visit its newly revealed uranium enrichment facility "soon," said Javier Solana, the European Union foreign policy chief.
International powers have threatened more sanctions if the Islamic republic doesn't change its ways
Author and foreign affairs expert Fareed Zakaria gave CNN his thoughts on the Iran nuclear situation.
CNN: Is the U.S. responding appropriately to Iran considering the news of its second Uranium enrichment site?
Zakaria: Well it was good that President Obama was joined by both [UK Prime Minister] Gordon Brown and [French President] Nicolas Sarkozy, and they all condemned Iran for its behavior. A unified international front was important.
"Fareed Zakaria: GPS"
In-depth analysis of Iran's nuclear program on this week's "GPS"
Sunday, 1 and 5 p.m. ET

In addition, administration officials have threatened crippling sanctions if Iran does not comply. Up until now, Iran has refused to cooperate or negotiate on the nuclear issue.
CNN: So what to do?
Zakaria: A moment of truth is arriving on the Iran issue. Western countries have to face up to the fact that there are really only two choices if Iran does not get in line. The first is a military strike -- effectively prevent the country from continuing to expand its nuclear capacity. There is a second choice: learn to live with a nuclear Iran.
CNN: How bad would it be to militarily strike Iran?
Zakaria: Very bad. I believe that striking Iran will first have the effect of uniting the country behind the regime. It happens in every country that is attacked from abroad.
Recall that George W. Bush's approval ratings on Sep 10, 2001 were around 40 percent. In one month (after 9/11) they had risen to 93 percent. Iranian dissidents warn that the day after an American or Israeli attack, they would all have to come out in support of the regime.
CNN: Does that make that much of a difference?
Zakaria: Yes. Right now the regime is suffering from a lack of legitimacy. The last thing we want to do is give them support and internal strength. We need to think of long-term consequences.
As [Defense Secretary Robert] Gates told a Senate panel, a military strike would only delay Iran's nuclear program, not end it. So in the long term we would give legitimacy to the regime and not stop the program.
In addition, the political and military spillover from such an attack in Arab countries would be huge. Iran funds militias in both Iraq and Afghanistan. If those militias stepped up their activities it would take the lives of American and European soldiers. Economically, the price of oil would skyrocket. And in the end, an attack would only delay the Iranian program by a few years -- not end it.
CNN: But we can't live with a nuclear Iran, can we?
Zakaria: We actually can. But let me be clear, living with it is not a passive option. If Iran doesn't cooperate, its behavior will make it possible to maintain, perhaps even expand, sanctions on it. It will strengthen Western resolve and, more importantly, make most Arab states ally themselves far more closely with the United States and Europe.
The great strategic threat in the region would no longer be Israel but Iran. These countries would make vigorous efforts to contain Iran's influence militarily and politically. And Israel's vast nuclear arsenal -- plus that of the United States -- would act as a deterrent on a regime that clearly wants to stay in power.
CNN: That doesn't sound ideal. Is that all we can do?
Zakaria: You are right; it's not a perfect option. But in the real world, it seems to me a far more sensible one than gambling that an attack on Iran would solve the problem.
E-mail to a friend

All About Iran • Atomic Energy Organization of Iran