BAGHDAD, Iraq (CNN) -- Iraqi and international officials fear the upcoming parliamentary election could be delayed if lawmakers fail to pass a revised election law this week.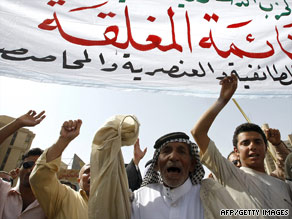 Iraqis demonstrate in Baghdad last week against plans for a closed election system.
The vote is scheduled for January 16, and Iraq's Independent High Electoral Commission said Tuesday that the schedule for planning the election is predicated on that date. But both the United States and the United Nations have raised concerns that there is no election law three months before the scheduled polls.
"There remains no clarity on the election law," said Ad Melkert, the top U.N. official in Iraq, in a statement issued Sunday by the U.N. Assistance Mission for Iraq.
Abdul Kareem Al-Samarai, a Sunni Arab parliamentarian, told CNN that he is expecting the election law to be passed by Saturday, but authorities are keeping their fingers crossed.
Election officials say if the new law isn't adopted, the government may have to come up with a new election date or rely on an old election law used in the 2005 national elections.
The upcoming elections are another step in the Iraqi government's efforts to solidify a democratic system in the post-Saddam Hussein era. The security environment and political stability during and after the polls will give the United States a good idea of how it will proceed in its plans to withdraw all of its combat troops by August, leaving 50,000 in advisory roles, and then withdraw all of its troops by the end of 2011.
U.S. Ambassador to Iraq Christopher Hill and top U.S. commander Gen. Ray Odierno issued a statement on Tuesday urging the parliament to act "expeditiously" in coming up with a law.
"Approximately three months before the scheduled parliamentary elections, the Council of Representatives has not yet come to consensus on an election law," they said. The men said they share the United Nations' concerns about "the effect altering the management of IHEC at this time could have on the January election timetable."
Iraqi Prime Minister Nuri al-Maliki said a delay would hurt Iraq's "political situation and its experiment in democracy."
"Any attempt to postpone the coming election will lead to a constitutional vacuum that this country will face, because the current Iraqi parliament will lose its legitimacy after January 16, 2010, which will cause a wave of chaos in this country that could ruin all that we've achieved," al-Maliki said in a statement on Tuesday.
Iraqi lawmakers haven't been able to pass the legislation in part because of disagreements over the nature of the voting system. Some favor a closed electoral list, where only the parties appear on the ballot. Others back a system where the names of candidates and their parties are listed.
Another unresolved area is how to organize elections in the city of Kirkuk, where there have been sharp political disputes among Kurds, Arabs, and Turkmens.
Brig. Gen. Stephen Lanza, a U.S. military spokesman, told reporters Monday that insurgents are intent on undermining Iraq's political process, but he believes elections will be held in January.
Also, he said he envisions a security assessment of the country 30 to 60 days after the elections and a review of moving troops out of the country in what he described as a "responsible drawdown." Lanza said there are roughly 120,000 American troops in Iraq now, a decrease of 23,000 since January.
"I really think the elections will be the point of departure by which we then look at an assessment for a true drawdown and really start moving our numbers from, let's say, somewhere between 120,000 and 110,000 by the elections, to getting to that 50,000 by August 2010," he said.
Security has improved in Iraq and violence has dropped. But authorities remain concerned about coordinated attacks, such as those that occurred in Baghdad in August and the bombings in Ramadi on Sunday.
Near Kirkuk on Tuesday, two Iraqi soldiers were killed and four others were wounded when a roadside bomb hit their military convoy, police said.
Also Tuesday, officials said at least 100 British troops are likely to return to Iraq, a few months after the country withdrew its service members from their bases in and around the southern city of Basra.
Two Iraqi lawmakers and the British ambassador to Iraq said that Iraq's Council of Representatives OK'd a security pact with Britain that would allow at least 100 British troops to provide protection for oil sites and train Iraqi security forces.
Iraq's presidency council -- made up of the nation's president and two vice presidents -- must sign off on the agreement.
"We welcome today's decision," said Ambassador Christopher Prentice. "The agreement is evidence of our mutual commitment to building the capability of the Iraqi Navy to undertake protection of Iraqi territorial waters and installations."
E-mail to a friend

CNN's Yousif Bassil, Mohammed Jamjoom and Mohammed Tawfeeq contributed to this report.
All About Iraq • Elections and Voting • United Nations • U.S. Armed Forces Activities