From Kevin Flower
CNN





(CNN) -- The United Nations Human Rights Council will hold a special session Thursday to reopen discussion of Israel's three-week offensive against the Islamic militant group Hamas in Gaza.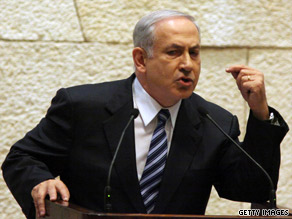 In his speech Monday, Israeli Prime Minister Benjamin Netanyahu called the report an "absurd claim."
According to a statement from the council, the meeting request came from the Palestinian Authority in the West Bank and is co-sponsored by 18 members of the 47-member body based in Geneva, Switzerland.
The council commissioned South African Judge Richard Goldstone to lead a fact-finding mission into the hostilities in Gaza that lasted from December 27, 2008, to January 18, 2009.
Goldstone's group issued a report last month which concluded that both Israel and Hamas had committed "actions amounting to war crimes, possibly crimes against humanity."
The council received the report September 29, but took no action, after a request by the Palestinian Authority to defer discussion for six months.
The Palestinian Authority government of Mahmoud Abbas came under withering criticism by Gaza Palestinians for the move.
Abbas defended his request in a televised speech Sunday and vowed to work "to punish everyone who was responsible for the hideous crimes committed against our children, our men and women -- especially in our dear Gaza."
Israeli Prime Minister Benjamin Netanyahu, in a speech Monday at the opening session of the Knesset, called the war crimes charge "an absurd claim."
"We will not agree to a situation where the [Israel Defense Forces] commanders and soldiers will be treated as war criminals after valorously defending the citizens of Israel against a loathsome enemy," he said.
Netanyahu said that if the report ultimately is referred to the U.N. Security Council or the International Criminal Court, it would deliver "a mortal blow" to the peace process.
There is an ongoing dispute about the number of people killed in the three-week military offensive that Israel called Operation Cast Lead.
The Gaza-based Palestinian Center for Human Rights put the death toll at 1,419 and said 1,167 of those were "non-combatants."
The Israeli military released its own figures earlier this year, claiming 1,166 people were killed, and 60 percent of those were "terror operatives."
E-mail to a friend

All About Hamas • Mahmoud Abbas • Benjamin Netanyahu