From Mohammed Jamjoom
CNN





BAGHDAD, Iraq (CNN) -- Although the U.S. government would prefer that the Iraqi elections be held on time, a delay would not affect the schedule of troop withdrawal, the U.S. ambassador to Iraq said Friday.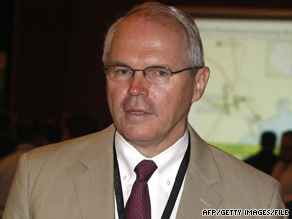 Chris Hill, the U.S. ambassador to Iraq, said U.S. officials expect an election law to be in place by January.
"Would we like them [to] kind of get this over with early rather than late? We would, but sometimes in this country there's a tendency to do things at the last minute. So we'll see," U.S. Ambassador Chris Hill said Friday in a CNN interview.
The polls are scheduled for January 16, and Iraq's Independent High Electoral Commission has said that the time schedule for planning the election is predicated on that date.
But both the United States and the United Nations have raised concerns that there is no election law three months before the scheduled polls.
If the new law isn't adopted, the government may have to come up with a new election date or rely on an old election law used in the 2005 national elections, some officials say.
Delayed elections cause problems, Hill said, but he asserted that it would not affect the schedule to withdraw troops.
"As for our schedule of troop withdrawal, we've been pretty clear about when the troops would be withdrawn," he said. "So our plan is to draw down the troops as we've said we're going do."
Don't Miss
The United States plans to withdraw all of its combat troops by August, leaving 50,000 in advisory roles, and then withdraw those by the end of 2011.
Brig. Gen. Stephen Lanza, a U.S. military spokesman, said Monday that there are roughly 120,000 American troops in Iraq now, a decrease of 23,000 since January.
"I really think the elections will be the point of departure by which we then look at an assessment for a true drawdown and really start moving our numbers from, let's say, somewhere between 120,000 and 110,000 by the elections, to getting to that 50,000 by August 2010," he said.
Asked whether delayed elections could shift the schedule for troop withdrawal, Hill said he likes to deal with the reality of a situation, not "scenarios."
"We do expect them to get an election law; we do expect it to be on time," he said. "I'm really hard pressed to start speculating on what happens if they don't do that."
Iraqi lawmakers haven't been able to pass the legislation in part because of disagreements over the nature of the voting system. Some favor a closed electoral list, in which only the parties appear on the ballot. Others back a system in which the names of candidates are listed along with their parties.
"I think there is a view ... that [people] want to actually see who they're voting for, who the individuals are," Hill said.
"Now, again, there's nothing wrong with a closed-list system; a lot of countries have a closed-list system, but I think the tendency in the world is toward a more open-list system, and I think we're seeing that sentiment reflected in Iraq," he said. "So let the Iraqis sort this out, and I'm sure they will."
Another unresolved area is the question of how to organize elections in the city of Kirkuk, where there have been sharp political disputes among Kurds, Arabs and Turkmens.
"I think what's important is for both sides to understand that when there is a settlement of Kirkuk, it will be done by getting people together ... under U.N. auspices," Hill said.
"And it won't be done by census; it'll be done by consensus. It'll be done by an effort to try to get the parties together so that they understand what is in everyone's interest."
E-mail to a friend

All About Iraq • Chris Hill