BAGHDAD, Iraq (CNN) -- Iraq's parliament failed Wednesday to reach agreement on a new electoral law, but the parliament speaker said it would not affect the date of the general election scheduled for January.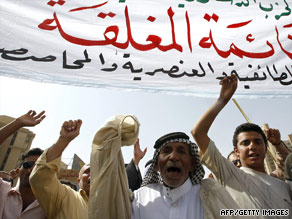 Iraqis demonstrated in Baghdad in early October against plans for a closed election system.
Speaker Ayad al-Samarrai said members of parliament disagreed over the oil-rich province of Kirkuk, an issue that has been a stumbling block in debates about the law.
He told reporters that the issue has been referred to the Political Council for National Security, and if the council submits a proposal for the new law Sunday, Parliament can vote on it Monday.
The council comprises Prime Minister Nuri al-Maliki, President Jalal Talabani, and leaders of the major political parties.
Iraq still has no election law, three months before the scheduled vote. If a new law isn't adopted, the government may have to come up with a new election date, or rely on the old election law used in the 2005 national elections, some officials say.
The election law lays out the basic rules for how the election will be conducted.
Al-Samarrai said the failure to pass the law would not affect the current date of January 16.
The United Nations and United States have expressed concerns about any delay in the election. Waves of destabilizing violence across the country are feared if the date is delayed.
"Time is critical and further delays in ratifying the amendment clarifications and the legal framework can adversely affect both the current electoral timeline, and ultimately the credibility of the electoral process," said Ad Melkert, the U.N. secretary-general's special representative for Iraq.
In Kirkuk, Kurds displaced under Saddam Hussein's rule have settled on land and in homes they say are rightfully theirs. However, Arab and Turkmen residents say many more Kurds have moved into Kirkuk than were displaced, and that allowing them to vote would create an unfair advantage.
U.S. and Iraqi government officials believe the election is a vital step in the Iraqi government's efforts to solidify a democratic system in the post-Saddam era.
A secure environment and political stability during and after the polls will be key as the United States looks to withdraw combat troops by next August, leaving 50,000 in advisory roles, and then withdraw all U.S. forces by the end of 2011.
E-mail to a friend

All About Iraq • Elections and Voting • United Nations • U.S. Armed Forces Activities