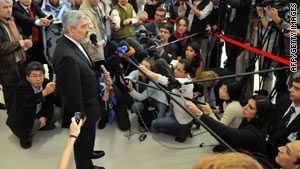 Iranian negotiator Ali Asghar Soltanieh speaks this week in Vienna, Austria, where he met with Western officials.
STORY HIGHLIGHTS
Iran mulls over pact reached at U.N. nuclear watchdog headquarters
Tehran will announce its final decision next week, state-run Press TV says
Iranian agreement could help resolve international showdown
U.S., U.N., other parties express support for deal

Vienna, Austria (CNN) -- Iran said Friday it needs more time to decide whether to sign onto a deal that could help end the international showdown over its nuclear activities.
Tehran is "studying the draft proposal" and will have an answer next week, said Iranian diplomat Ali Asghar Soltanieh on state-run Press TV.
Soltanieh is Iran's representative for meetings with the International Atomic Energy Agency, the U.N. nuclear watchdog. Representatives from the United States, France, Russia, United Nations and Iran settled on the draft proposal Wednesday at IAEA headquarters in Vienna.
IAEA Director General Mohamed ElBaradei gave all the representatives until Friday to say whether they would sign the document, which he called "a balanced approach to the problem."
The other parties have expressed support for the deal.
In a statement Friday, ElBaradei said Iran had informed him "it is considering the proposal in depth and in a favorable light, but it needs time until the middle of next week to provide a response. The director general hopes that Iran's response will equally be positive, since approval of this agreement will signal a new era of cooperation."
The proposal calls for low-enriched uranium produced in Iran to be sent abroad for further enrichment and then returned for use in medical research and treatment.
"This is a real opportunity for Iran to help address some of the real concerns of the international community about its nuclear program and at the same time still provide for the humanitarian needs of the Iranian people," U.S. State Department spokesman Ian Kelly told reporters Friday.
Asked about the deadline, Kelly responded, "Obviously we would have preferred to have had a response today." He added that the United States approaches the issue "with a sense of urgency. The international community's been waiting a long time for Iran to address some of our real concerns about their intentions."
Tehran says its nuclear program is intended solely for peaceful purposes, but many in the West believe Iran is pursuing nuclear weapons capabilities.
Low-enriched nuclear fuel can be further enriched into weapons-grade material.
Israel, which views the prospect of a nuclear-armed Iran as a threat, opposes the Vienna plan. Israeli Defense Minister Ehud Barak said Thursday: "The cessation of enrichment by Iran is needed and not just the removal of the enriched material."
Soltanieh, the Iranian diplomat, spoke approvingly Friday of the three-day meeting in Vienna, calling it "positive and constructive," according to state-run Islamic Republic News Agency .
He added that the IAEA "is finally on its correct path and, based on its charter, is playing the role of a facilitator enabling nations to cooperate with each other toward achieving nuclear energy for peaceful purposes."
But Iran also pushed a separate proposal. "Iran says it prefers to buy nuclear fuel for the research reactor under the supervision of the U.N. nuclear watchdog rather than ship uranium abroad," Press TV reported.
Speaking to Press TV, Soltanieh said that while Iran considers the Vienna plan, it wants the other parties to weigh in on the other proposal.