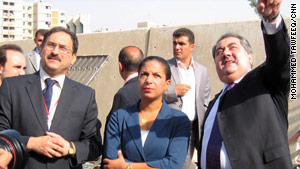 Susan Rice, U.S. ambassador to the U.N., surveys damage Saturday from an August blast at the Iraqi Foreign Ministry.
STORY HIGHLIGHTS
At least 100 people killed in August bombings in Iraq
Susan Rice, U.S. ambassador to U.N., tours site, offers sympathy
Iraqi foreign minister presses for U.N. probe of bombings
On Saturday, 100 miles from Baghdad, a suicide bomber killed 2 in Tikrit
Baghdad, Iraq (CNN) -- The U.S. ambassador to the United Nations visited Iraq for the first time this weekend, discussing how to help the country move on from debt and sanctions and expressing sympathy over massive bombings in August.
The envoy, Susan Rice, arrived Friday and met with Iraqi Prime Minister Nuri al-Maliki. She held talks Saturday with Iraqi Foreign Minister Hoshyar Zebari at the Foreign Ministry compound in Baghdad. While touring the ministry building, they surveyed damage from the August 19 bombing, one of six targets hit within an hour that day.
Later Saturday, about 100 miles north in Tikrit, a suicide bomber wearing an explosive vest detonated himself outside a political party headquarters, killing two people, police said.
Six other people were wounded in the afternoon attack, which occurred outside the National Unity headquarters, according to Salaheddin province police.
National Unity is a Sunni political party.
During Rice's visit, the Iraqi foreign minister said his government has been asking for international help to investigate the August bombings, which also targeted the Finance Ministry. At least 100 people were killed and more than 500 wounded in the attacks.
"They were a turning point because these attacks were different than the others," Zebari said. "They were attacks at the heart of the government and institutions."
A suicide bomber driving a truck filled with four tons of explosives carried out the attack at the Foreign Ministry, Zebari has said. Large trucks are banned from the area, so Zebari said the attackers must have been collaborating with Iraqi security officers.
"We've been working, laboring very hard over the last two months to ask the [U.N.] secretary-general to designate an investigator or a senior official to come and assess the scale of the foreign intervention and the scale of the damage and the destruction," Zebari said.
Rice had "positive answers" and said the U.S. mission had been helping Iraq at the U.N. Security Council, for Zebari said.
In remarks afterward, Rice offered sympathy for the victims of the bombings and their families.
"We fully understand how devastating and painful such a heinous act of terrorism is," she said. "The United States stands with you, your colleagues and all of the people of Iraq in sorrow and in solidarity."
Rice didn't directly answer a question about the prospect of a U.N. investigation into the bombings, but said, "We've had good discussions here with our colleagues in Iraq, and of course in the United States, about the ways to best address this challenge, and we're going to continue to work together on that."
The two officials made good progress on issues of bankruptcy and sanctions, Zebari said. He said Iraq is "overburdened by over 73 Security Council resolutions" and wants to be relieved of the restricting sanctions.
"I think we are really very close to get Iraq back again to where it should be, to resume its full international and legal standing," Zebari said.
Zebari also spoke of the upcoming Iraqi elections, still scheduled for January 16 but in limbo because there is no law to govern the vote.
Iraq's parliament failed this week to reach agreement on a new electoral law, so the issue now goes to the Political Council for National Security, which will take up the law Sunday. If the council agrees on a proposal for a new law, parliament can vote on it Monday, in time for the election to go ahead in January, parliament Speaker Ayad al-Samarrai has said.
But Zebari disagreed with al-Samarrai and others on why the law failed to pass. They said members of parliament disagreed on the oil-rich province of Kirkuk, where Arabs and Turkmens complain that many more Kurds have moved into the area than were displaced under Saddam Hussein, a situation they said gives Kurds an unfair advantage in any voting.
Zebari called that "an easy, comfortable excuse" and a "lie" to hide the real reasons lawmakers disagree on the new law.
"The key issue -- many people are not telling the truth -- is about the nature of the election: Should it be conducted on the basis of an open list or a closed list?" Zebari told CNN. "Publicly, many of them -- many of the politicians -- embrace the open list. But deep down in their hearts actually, they are the strongest supporter of a closed list."
Open lists would name candidates and their parties; closed lists would name only parties. Existing law, used in the 2005 election, mandates a closed list. If a new law isn't adopted, the government may have to come up with a new election date.
The United Nations and United States have expressed concerns about any delay in the election, fearing a wave of violence across the country. A secure environment and political stability during and after the vote will be key as the United States looks to withdraw combat troops by next August.
Zebari said he is concerned that any election delay could affect plans for U.S. troop withdrawals.
"I hope it would not, and [that] the troop redeployment will go smoothly, but logically speaking, practically speaking, it will have an impact," he said.
"If the situation deteriorates, if violence will come back, if terrorism will raise its head again, what's the point of -- I mean, you withdraw your troops since you left behind a peaceful stable country but if violence, God forbid, will return, then in my view it will have an impact. Let's not kid ourselves."
CNN's Mohammed Jamjoom and Mohammed Tawfeeq contributed to this report.