Israel detains ship loaded with weapons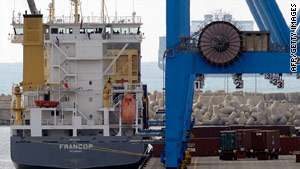 A picture taken at the Israeli port of Ashdod shows a cargo ship the Israeli navy intercepted.
STORY HIGHLIGHTS
Israel Defense Forces: Ship detained on Tuesday and escorted to an Israeli port

Israeli authorities: Ship carrying arms was headed from Iran for Syria

Israeli government official: Arms on ship included long-range missiles
Jerusalem -- In the largest naval seizure of it kind, Israeli Navy commandoes captured a ship loaded with "hundreds of tons" of weapons headed for Syria, Israeli military officials said Wednesday.
Israeli President Shimon Peres praised the seizure, saying it illustrates the "large gap" between what Iran and Syria say publicly and their attempts to "arm terrorist organizations."
More than 40 containers of missiles, rockets, lights arms and mortars were discovered after the Antigua flagged cargo ship Francop was intercepted by an Israeli navy arms smuggling patrol Tuesday 100 miles west of Israel's coast near Cyprus, according to the deputy head of the Israeli navy Brigadier Gen. Rani Ben Yehuda.
According to an Israeli military statement after an initial search of the ship was conducted and "it became clear that the vessel was carrying weapons, the vessel was directed by the Israel Navy to dock at an Israel Navy base in Ashdod in for additional searches and a detailed inspection of the hull's cargo."
In a further search of the ship Ben Yehuda said they found documents and shipping materials on the ship to suggest that weapons originated from Iran and were being shipped to Syria to then be delivered to Hezbollah fighters in Lebanon for use in "terror activity."
Ben Yehuda said there were enough weapons to keep Hezbollah fighting for a month though he offered no direct evidence to substantiate the claim that the weapons were bound for Hezbollah.
There was no immedate response from Hezbollah to the report.
The weapons were disguised in containers as civilian cargo according to Ben Yehuda. He said there were no indications the crew of the container ship had any knowledge of their deadly cargo and that the captain of the ship cooperated fully with the Israeli military.
The Israeli military said further in its statement that weapon smuggling of this type "is a well-known Iranian technique, taking advantage of cargo ships flying different flags in order to smuggle containers loaded with large amounts of highly volatile weaponry to terrorist organizations such as Hezbollah."
The Tuesday night operation was authorized by Israeli Prime Minister Benjamin Netanyahu and Defense Minister Ehud Barak. In a statement released by his office Barak called the seizure "another success in the never-ending battle against the attempts to smuggle arms and weapons that originate in Iran in an attempt to threaten Israel's security."
In his statement, Peres noted that, "All the parties concerned deny their involvement; yet today, the whole world can see the large gap between Syria and Iran's statements and their actual activities.
He charged that "Iran and Syria continue to arm terrorist organizations, especially Hezbollah and Hamas who both work visibly towards destroying peace in the Middle East. The ship's arrest is not only of critical military importance, but also of political importance - facts cannot be argued with. This is an important accomplishment for the military and the entire country."
The seizure is larger than the 2002 Israeli capture of the container ship Karine-A in which 50 tons oaf weapons bound for the Gaza Strip was intercepted.
CNN's Kevin Flower contributed to this report