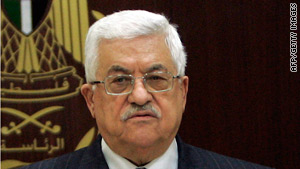 Palestinian Authority President Mahmoud Abbas says he doesn't plan to run for office again.
STORY HIGHLIGHTS
In televised address, Mahmoud Abbas says he doesn't plan to seek re-election
Palestine Liberation Organization will support him again anyway
Palestinian envoy says Abbas "feels betrayed" by Arabs, Israelis, Americans
Jerusalem (CNN) -- Palestinian Authority President Mahmoud Abbas does not plan to run for re-election in January, he said Thursday.
"I have no intention to run for the upcoming presidential elections, and this decision is not to debate or to bargain or to argue at all," he said in a televised address.
The Palestine Liberation Organization had been informed of his decision earlier in the day -- but rejected it and will support him again anyway, top Palestinian official Yasser Abed Rabbo said.
The presidential election is scheduled for January 24.
But Hanan Ashrawi, a long-time representative of the Palestinians, raised the possibility the election would not take place at all. Palestinian elections have frequently been postponed.
"To me, the issue is, 'Will there be elections?'" she asked, citing the Israeli "siege" of predominantly Palestinian East Jerusalem and Hamas "preventing elections in Gaza."
Hamas, a militant Islamic Palestinian faction, controls Gaza. Abbas' secular Fatah movement controls the West Bank. The two sides have fought pitched battles.
Hamas was quick to slam Abbas' record after his announcement, though praising the speech itself.
"Mr. Abbas gave a good speech," Hamas spokesman Ahmed Yousef said.
"It sends a message to the Americans and Israelis that Mr. Abbas is in a very bad situation. This should put pressure on the Americans to pressure Israel on the settlements. For 17 years now there has been no change in the situation of the Palestinians and the Israelis, which is nothing for Mr. Abbas to be proud of," he said.
"The settlement expansion has to be stopped and if not this will make it very difficult for Mr. Abbas to be re-elected if he stands for re-election."
Abbas, for his part, blasted Hamas in his speech.
"It is time for the Hamas leadership to revisit its ... destructive policies" and "think for once about the interests of the Palestinian people," he said.
Israeli Prime Minister Benjamin Netanyahu's office said Thursday it would not comment on the internal Palestinian political process, as it would not be appropriate, but the Defense Ministry did.
"Minister of Defense Ehud Barak expressed his hope that ... the effort to start the negotiations and to achieve peace agreement that is essential to Israel and the future of this region won't be harmed," a ministry statement said. "Mr. Barak emphasized that he supports the continuing effort to realize a two-state solution, taking into consideration the security concerns of the state of Israel."
The Palestinian leadership has recently displayed open frustration with the United States and the long-moribund peace process with Israel.
Officials including chief negotiator Saeb Erakat responded angrily this weekend when U.S. Secretary of State Hillary Clinton praised Israel's agreement to limit settlement-building as "unprecedented."
Clinton later clarified that the United States "does not accept the legitimacy" of building Israeli housing on occupied Palestinian land.
She said after Abbas spoke Thursday that she would continue to work with him on Mideast peace even after his term as Palestinian president ends.
"We have tremendous respect for President Abbas and the leadership he has offered the Palestinian people for decades," Clinton told reporters after meeting with German Foreign Minister Guido Westerwelle.
Clinton has just returned from the Middle East, where she failed to persuade Abbas to resume talks with Israel until it agrees to a complete freeze of settlement construction.
She suggested Abbas told her of his decision not to seek re-election when they met Saturday in Abu Dhabi.
"In each of those conversations he described in great detail the challenges he faces and we talked about his own political future," Clinton said.
Erakat told CNN Sunday he believed that Abbas was serious about not running for a new term.
"He feels betrayed by Arabs, Israelis, some Palestinians and to a certain extent by the Americans," Erakat told CNN's Christiane Amanpour.
Abbas became president of the Palestinian Authority after Yasser Arafat died in 2004.
CNN's Kevin Flower and Paul Colsey in Jerusalem and CNN State Department Producer Elise Labott in Washington contributed to this report.