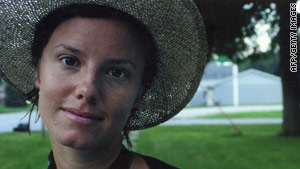 An undated family photo shows Sarah Shourd, one of three U.S. hikers detained in Iran since July 31.
STORY HIGHLIGHTS
NEW: Charges "entirely at odds with the people [the hikers] are," families say
"Investigation ... is in progress," more info coming soon, prosecutor says
Three Americans were hiking in Iraq in July and wandered into Iran, friends say
Espionage charges announced by a Tehran prosecutor in Iran's official news agency
Tehran, Iran (CNN) -- Iran is charging three American hikers with espionage, a Tehran prosecutor said Monday.
The three Americans have been detained since July 31 on charges of illegally crossing the border from Iraqi Kurdistan into Iran. Their family and friends say it was an innocent mistake.
The announcement of the charges comes only days after U.S. Secretary of State Hillary Clinton met privately with the families of Shane Bauer, Sarah Shourd and Josh Fattal, who were detained along the Iran-Iraq border at the end of July.
Tehran's prosecutor general, Abbas Ja'afari Dolatabadi, announced the charges in an interview with the official Iranian news agency IRNA.
"The charge against the three U.S. citizens who were arrested on the Iran-Iraq border is espionage. Investigation of their cases is in progress," he told IRNA, adding: "There will be more to say [about them] soon."
Clinton repeated Monday the Obama administration's call for the release of the hikers, requesting that the Iranian government "exercise compassion."
"We believe strongly that there is no evidence to support any charge whatsoever," said Clinton, speaking in Berlin.
"The allegation that our loved ones may have been engaged in espionage is untrue," said a statement from the hikers' families. "It is entirely at odds with the people Shane, Sarah and Josh are and with anything that Iran can have learned about them since they were detained."
White House spokesman Robert Gibbs said Monday the three hikers are "innocent young people who should be released by the Iranian government."
He said the United States has not obtained confirmation of the charges through Swiss emissaries.
Dolatabadi also said a Danish journalism student who was arrested last week in Iran was still under investigation.
"A journalist must have an official permit from authorized officials," he told IRNA. "Therefore, the investigation will continue. We have also requested information from the Ministry of Culture and Islamic Guidance [which accredits foreign journalists] and after they respond to our inquiry we will make our decision."
Clinton on Thursday repeated a call to the Iran government to release the American hikers on humanitarian grounds. "As a mother my heart went out to all of them. I cannot imagine what it would feel like to know that your child was in prison for now 100 days with very little contact between you and them," she said.
"I told them that we are doing everything we possibly could to get Shane and Joshua and Sarah home. And we are exploring every angle. Obviously I would hope that the government of Iran would free them on humanitarian and compassionate basis and return them to their families," she said.
We are doing everything we possibly could to get Shane and Joshua and Sarah home.
--U.S. Secretary of State Hillary Clinton
The United States, which has no diplomatic relations with Iran, has relied on Switzerland to appeal directly for the hikers' release. A Swiss diplomat has met twice with the Americans in their Iranian prison.
The most recent visit was on October 29, the hikers' families said the following day.
The 40-minute visit took place at Evin Prison in Tehran, where Bauer, 27, Shourd, 31, and Fattal, 27, are being held.
"We were informed via the State Department that Shane, Sarah and Josh are in good physical shape and we're obviously happy they received another visit," the families said in a written statement. "Today marks exactly three months since our children were detained and we urge the Iranian authorities to let our children speak to us directly. Every time our telephones ring, we hope they it is them calling to tell us they've been released."
The Swiss diplomats took clothes and other supplies, including books and writing papers, to the Americans, the statement said.
State Department spokesman Ian Kelly told CNN that the Swiss ambassador was granted the second consular visit after several requests.
A senior State Department official told CNN that it was reported the three seemed to be nervous and scared, but also appeared to be in good physical and psychological health.
The only other consular access came when Swiss diplomats visited the hikers on September 29.
In an effort to obtain the hikers' release, their families in late October released video of the three -- shot two days before they were detained -- fooling around, the families said, like friends on vacation.
The video was shot by Shon Meckfessel, a friend who accompanied them on their Kurdistan trip. Meckfessel had planned to join them on their outing but stayed behind because he felt ill.
The videos show the relaxed travelers enjoying themselves as they take a break from exploring a town in Kurdistan.
"Yo it's hot. Yo it's hot. It's 'cause I'm in Iraq. Someone get me a fan. Someone get me a fan. 'Cause I'm in Kurdistan," Fattal raps as he chuckles and points to the Iraqi landscape behind him.
The videos have been posted on YouTube and at www.freethehikers.org.
The Americans entered northern Iraq from Turkey on July 28 during a planned five-day hike. Bauer and Shourd had been living in Damascus, Syria; Fattal was visiting. They set out to hike in northern Iraq's Kurdistan region.
Meckfessel, who spoke with Bauer the morning of their hike, said his friends did not know they were near the border and made "a simple and regrettable mistake" by crossing into Iran.
FOLLOW THIS TOPIC