STORY HIGHLIGHTS
Four pilgrims have died from swine flu already this year
Swine flu more of a worry than stampedes, terrorist attack or fires as in previous years
Heat sensors screen pilgrims for fevers; mobile devices alert officials to flu cases
Saudi Arabia invited international health experts to stay throughout pilgrimage
(CNN) -- Forget stampedes, fires and terrorist attacks. The big fear this year concerning the Hajj, the annual millions-strong pilgrimage to Mecca, is swine flu.
Swine flu has already killed four pilgrims this year, Saudi Arabia's health ministry announced Saturday, almost a week before the pilgrimage's peak.
Three of the victims -- a woman from Morocco and men from Sudan and India -- were in their seventies. The fourth was a 17-year-old girl from Nigeria.
The Health Ministry said none had been vaccinated against the H1N1 virus -- despite their recommendations -- and all had underlying health problems, including cancer and respiratory illness. A ministry spokesman said more than two dozen other cases had been detected among arriving pilgrims.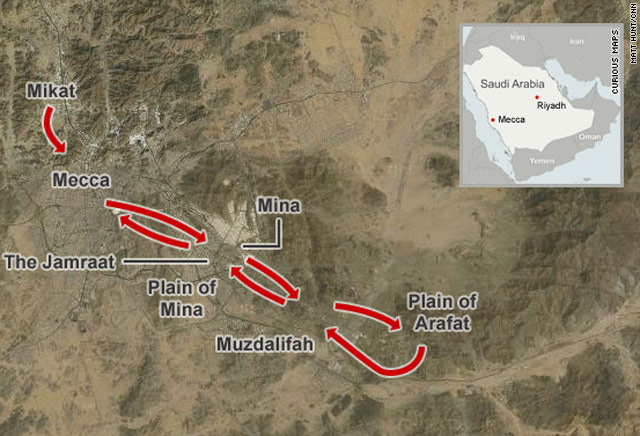 Interactive: Stages of the Hajj

Video: Guide to the Hajj pilgrimage

Video: Security forces on alert
HAJJ DISASTERS

2006: A stampede kills at least 363 people during stone-throwing ritual

2006: A small hotel in Mecca collapses, killing 76

2004: Stampede kills 251 pilgrims and injures 244 at stone-throwing ritual

1998: At least 118 trampled to death

1997: 343 pilgrims die and 1,500 injured in fire

1990: Worst stampede ever kills 1,426

1987: 400 die when Saudi authorities confront pro-Iranian demonstration
During the climax of the pilgrimage, crowds can reach a density of up to seven people every 10 square feet -- the perfect storm of flu transmission.
Latest figures from the World Health Organization (WHO) show the virus has killed 6,750 people worldwide.
Skittish health officials in Saudi Arabia have worked hard to quell fears that the pilgrimage -- the biggest yearly congregation of people in the world -- will contribute to the global spread of the virus, inviting international health experts to make recommendations and screening pilgrims as they arrive.
The kingdom, though, stopped short of imposing any travel bans to Saudi Arabia, which earns billions of dollars a year from the pilgrimage.
For Saudi Arabia, the host country, the mass religious event involving a precise set of symbolic rituals, is hugely significant.
"Hajj is a major responsibility [for us]," Gen. Mansour Al-Turki, security spokesman for the Saudi Ministry of the Interior, told CNN. "We are prepared for everything."
Performing the Hajj by traveling to Mecca and Medina is an obligation for all able-bodied Muslims who can afford it at least once during their lifetime. Al-Turki said up to three million are expected this year.
The Hajj season -- dates vary depending on the sighting of the new moon -- peaks between Wednesday and Saturday this year, just as the winter flu season gets underway in the Northern hemisphere.
Dr. Ziad Memish, deputy Saudi Health Minister, told CNN the kingdom invited 25 international experts, including specialists from the Atlanta-based Centers for Disease Control and the WHO, to advise them on how to deal with the pandemic. He said the team inspected airports, seaports, and other facilities and strategies Saudi Arabia had set up to deal with any outbreak.
Memish said the CDC recommended setting up a mobile alert system used in the Hurricane Katrina disaster in the U.S. where mobile devices will document any suspected flu cases via GPS to a command center at the Ministry of Health.
He said the experts also recommended the country continue using thermal screening at arrival points to test pilgrims for fevers. If a pilgrim exhibits symptoms, they will be quarantined until the symptoms disappear.
Memish told CNN a team from the CDC will be staying throughout the Hajj to help the government deal with any problems.
Saudi health authorities ordered 11 million doses of the H1N1 vaccine, giving priority to government workers working at the Hajj. They recommended pilgrims be vaccinated before coming -- although clearly, many have not complied.
The tsunami of people that is the Hajj has created massive problems for the Saudis in the past.
We are prepared for everything
--Gen. Mansour Al-Turki
Hundreds of people have died in recent years in stampedes, fires and demonstrations. The biggest stampede killed 1,426 people in 1990 in a tunnel leading to a holy site.
Political extremism has also claimed lives.
In 1979, 151 people were killed and more than 500 wounded after Saudi security forces stormed the Grand Mosque in Mecca to free pilgrims held hostage by Islamist militants. In 1987, 402 people were killed, according to Saudi official figures, when security forces tried to break up an anti-U.S. demonstration by Iranian pilgrims.
During the Hajj, pilgrims throw stones at pillars representing the devil. They circle a black holy stone in Mecca's Grand Mosque seven times. They ready themselves by abstaining from sex, hunting, killing or arguing.
The stoning has proved the most dangerous of the rituals. But bridges have been built at four levels at the site to help prevent a recurrence of fatal stampedes, Al-Turki told CNN.
Al-Turki said the Saudis depend on "a lot of technology" to monitor the crowds, including CCTV cameras and an early warning system that constantly measures the density of crowds in different locations.
He said U.S.-made Sikorsky S-92 helicopters, introduced last year, monitor the crowd situation from above, sending pictures back to command and control centers.
He said new fire-resistant tents have drastically cut down the number of fires.
This year, though, the Saudis are more worried about flu than anything else.
In a bid to stem any outbreak, Deputy Health Minister Memish said a religious Fatwa has been issued saying face masks are acceptable this Hajj, as are alcohol-based hand sanitizers. Usually, stitched clothes are prohibited on the body as is all contact with alcohol.
Not all pilgrims have gotten the news though.
"You can't wear something to cover your face for the women," said pilgrim Lateefa Khan, traveling to Mecca from the U.S. "The face has to be shown."
Despite the flu fears, Khan said she's thrilled to be going.
"I am leaving my kids behind so I can concentrate fully on doing Hajj," she told CNN. "I'm looking forward to focusing all my time on worshipping."
Amir Ahmed contributed to this report.