Iran sentences 5 to death for post-election protests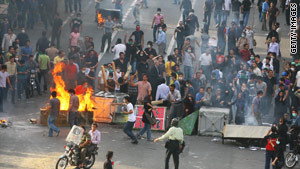 Thousands took to the streets to dispute the outcome of Iran's June 12 presidential election.
STORY HIGHLIGHTS
Iran sentences five people to death for their part in post-election protests
Another 18 sentenced to prison for up to 15 years
French academic Clotilde Reiss appeared in court Tuesday, she was among those arrested during street protests
Thousands of people demonstrated after the disputed June 12 presidential vote
Tehran, Iran (CNN) -- Iran has announced it has sentenced five people to death and another 81 to prison terms of six months to 15 years for their roles in the protests that followed the country's disputed presidential elections.
The five who received death sentences on Tuesday were convicted of membership in terrorist groups and carrying out bombings across Iran, the Tehran judiciary said in a statement reported by state media.
The others were found guilty on various charges, including acting against the national interest, disturbing the peace and destroying public property.
The judiciary said the defendants can appeal the verdicts.
The government had announced three protest-related death sentences in October. Of the eight facing possible death, at least five were identified by several reformist Web sites: Reza Khademi, Mohammad Reza Ali-Zamani, Arash Rahmanipour, Naser Abdolhasani and Hamed Rohaninejad.
Meanwhile, the first day of the trial of a French academic also arrested during the post-election protests ended Tuesday with the defense offering its opening statement.
A second session has not been scheduled, the Fars News Agency said.
The French ambassador accompanied Clotilde Reiss, 24, to the court room, the woman's lawyer told Fars.
Reiss was among some 4,000 people arrested in connection with protests following the June 12 presidential election. Thousands of Iranians demonstrated against the official result of the vote, which re-elected hardline President Mahmoud Ahmadinejad.
The government said he won by a landslide, but his opponents accused officials of rigging the results.
Reiss was released from prison in August and has been staying at the French Embassy in Tehran while awaiting trial.
Iranian media reported that she had admitted to crimes in court, saying she participated in an illegal demonstration, and that she asked for clemency and forgiveness.
Human rights groups and Iran's opposition leaders have accused the government of forcing people to make such confessions.
CNN's Shirzad Bozorgmehr and Gena Somra contributed to this report.