STORY HIGHLIGHTS
Islamic divisions go back centuries
War of words this Hajj between Saudi Arabia and Iran
Pilgrims say Muslims should not let differences divide them
Iran says it will take measures if any interference with its pilgrims
Mecca, Saudi Arabia (CNN) -- The path from the holy city of Mecca to the Mina desert turned a sea of white Wednesday as throngs of Muslims began the annual pilgrimage known as the Hajj.
They came from all corners of the Earth to fulfill an obligation -- the Hajj is the fifth pillar of Islam. Those who complete its prescribed rituals are believed to be forgiven for their mortal sins.
But beneath the serene sea of white, beneath the powerful symbol of Muslim unity, lie deep schisms that divide the Islamic world.
The differences go back centuries to Sunnis and Shiites, sects divided at Islam's inception over the selection of Prophet Mohammed's successor. Other differences have bubbled up over modern-day issues: the role of women, terrorism and the real meaning of jihad.
A demographic study released last month by the Pew Research Center estimated that there are 1.57 billion Muslims, representing 23 percent of the world's population. About 2 million of them are in Saudi Arabia for the next five days for the Hajj.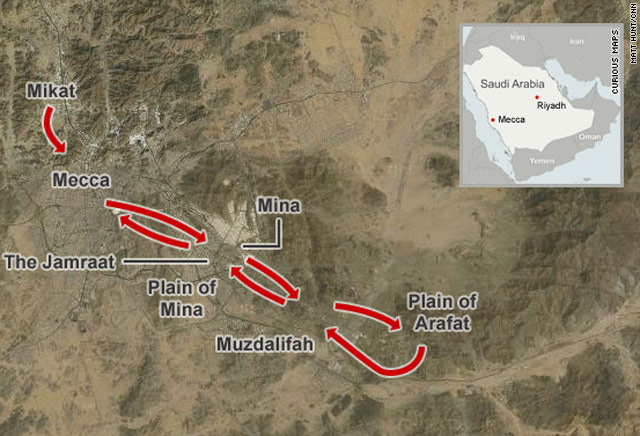 Interactive: Stages of the Hajj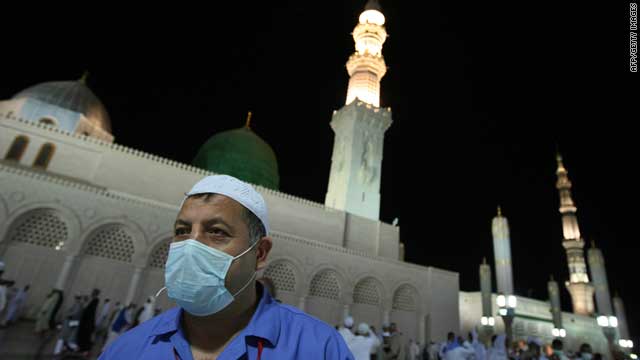 Gallery: Hajj swine flu fears

Video: Security forces on alert
HAJJ DISASTERS

2006: A stampede kills at least 363 people during stone-throwing ritual

2006: A small hotel in Mecca collapses, killing 76

2004: Stampede kills 251 pilgrims and injures 244 at stone-throwing ritual

1998: At least 118 trampled to death

1997: 343 pilgrims die and 1,500 injured in fire

1990: Worst stampede ever kills 1,426

1987: 400 die when Saudi authorities confront pro-Iranian demonstration
Sectarian conflict has manifested itself this year in a war of words about the pilgrimage between Sunni-majority Saudi Arabia and predominantly Shiite Iran. The Saudi government warned pilgrims not to stage demonstrations.
Iran said it would take "appropriate measures" if Shiite pilgrims faced any interference.
In 1987, 402 people died at the Hajj when troops broke up a Shiite protest.
This year, with tensions heightened by the terse Saudi-Iranian exchange, 100,000 security personnel have been mobilized to keep close watch.
"We heard conflicting messages from Iran, but we appreciate the latest positive messages by Iranian officials visiting the country," said Prince Naef bin Abdelaziz, Saudi Arabia's interior minister.
"We hope that no unwanted incidents happen during this Hajj season," he said.
Many pilgrims said Muslims should not let their differences divide them.
"We do follow our traditions, but there should be more understanding and harmony among all Muslims," said Motaqi, a Shiite pilgrim.
Zahida, a Sunni, wished for better dialogue between the sects. She wished that Sunnis and Shias could live side by side, as they do during the Hajj.
A Harvard University study found that the Hajj does lead to a sense of greater harmony among ethnic groups and Islamic sects, and to more favorable attitudes toward women, including greater acceptance of female education and employment.
Ilyas Anwar, a young imam from the South Valley Islamic Community in San Martin, California, made the journey of a lifetime to Mecca -- for the fourth time.
In general, he said, Muslims stand united, divided perhaps by cultural differences, but not their faith.
That, he said, was apparent from the scene around him. Sunni and Shiite, black and white, Arab and non-Arab wending their way to the desert.