STORY HIGHLIGHTS
U.S. couple becomes tour group leaders to make repaeted Hajj trips

Group leaders picked for religious knowledge, familiarity with holy sites

Saira Siddiqui: There's always people seeing and doing everything for the first time

Mecca, Saudia Arabia (CNN) -- For the average pilgrim, going for Hajj poses financial and physical burdens, but a U.S. couple who aspire to attend the Hajj every year has found a way to help with the steep cost.
They have become "group leaders" who help guide other pilgrims and enrich the experience for them. In turn, they say, the experience has changed their lives.
For Irtiza Hasan and his wife Saira Siddiqui it is a journey they look forward to despite the thousands of dollars it takes.
This is the second year they have come to Mecca for the annual Muslim pilgrimage, and they hope to come every year. The Hajj -- the fifth pillar of Islam -- requires devotees to journey to Mecca at least once in their lives if they can afford to do so.
Irtiza said the Hajj is special because "it renews my faith."
"All year round my schedule revolves around my career, education, community work and recreation. Hajj gives me a chance to rejuvenate my spirituality," he said.
Saira added: "Going for Hajj will always be a different experience because we are never the same person as we were before."
This year is even more different because the couple had to leave their 19-month-old twins, Moussa and Khadija, with family members.
Traveling from the United States, the average cost for a Hajj package which includes accommodation and food for 18 days is about $7,500 a person.
The 30-year-old middle class couple from Houston, Texas, tackle the high cost by being sponsored by a Hajj tour company that hires them as "group leaders." Read and watch more from the Hajj

Video: Hajj reaches spiritual climax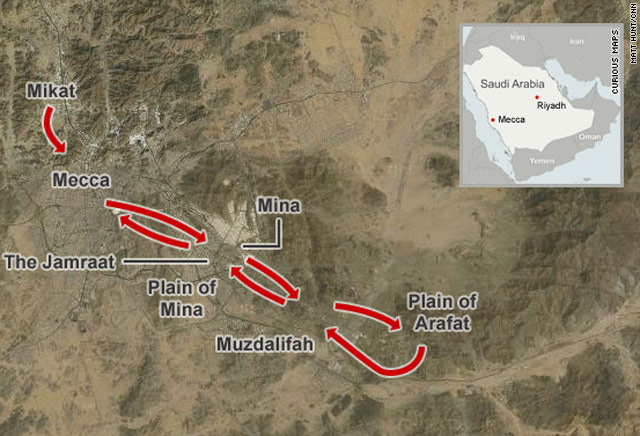 Interactive: Stages of the Hajj
People qualify as group leaders based on religious knowledge, familiarity with holy sites in and around Mecca plus leadership skills. Every group leader is responsible for about 80 pilgrims, advising on fatwas, which are rulings on points of Islamic law, plus directing the pilgrims' movements throughout the trip.
The couple acknowledges the heavy responsibility. "You are servicing people and helping facilitate an act of worship that pilgrims will probably only do once in their lifetime," says Irtiza.
But Saira said: "I think I will always enjoy it because there will be people who are seeing and doing everything for the first time, and that re-energizes you."
Friday, on the third day of Hajj, the couple went back to the tent city of Mina, about two miles from Mecca, and reflected on the message of Hajj.
"For me, Hajj is something that 'shakes you up' so to speak," said Saira. "It's a profound experience that changes the way you think and how you look at things. It helps me reprioritize what's really important in life. I enjoy going repeatedly because I always find benefit from removing myself from all the distractions in life and really focusing once again on my real purpose."
For Irtiza, a human resources manager, the message goes further, "Hajj means humanity. Hajj means equality. Hajj means the story of family -- of a father and a son, of a husband and his wife, of Abraham, Ishmael and Hagar."
Muslims believe that Hajj rituals commemorate the trials faced by Prophet Abraham and his family.
Saira, a Ph.D. candidate in Social Education, explains, "It's the story of one family, which is something I think we can all relate to. It's about remembering their patience, their trust in God, their resilience in adversity.
"But I think Hajj is also about connecting with other Muslims on a 'human' level, as opposed to connecting with people based on nationality, race, gender, class, or the million other ways we usually connect with people.
"Millions of people all come together to do the same things at the same time. You don't stand out, and that's the point... It's about humbling oneself."
The couple spoke of Hajj as a vehicle to strengthen their marriage and friendship. "I think there's wisdom in Hajj being an obligation on every able Muslim greater than we can understand or try to describe," Sarita said. "To say that it is life changing seems too simplistic to be honest... the benefits are too numerous to list."
Irtiza struggles for words when asked to explain how Hajj has changed his perception about life.
"I do not know how to say this. But when I sat down next to a woman from South Korea, who told me how she had to travel all the way to Pakistan just to get a Hajj visa; or when I talked to a 70-year old Nigerian man who said he saved up money all his life just to make this trip but now he cannot hear! All these stories move you! They change you to be more humble and grateful."