Iraq's civilian death toll in November is lowest since war began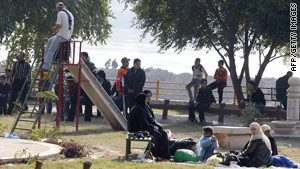 Families gather at a park near the Tigris River in Baghdad, Iraq, on Tuesday.
STORY HIGHLIGHTS
War-related violence killed at least 88 Iraqi civilians, injured 332 in November
Before November, lowest civilian death count was in January, when 138 people were killed
Number reflects hope that stability and peace are on the horizon in war-torn nation
Baghdad, Iraq (CNN) -- Fewer Iraqi civilians were killed in November as a result of war-related violence than in any other month since the U.S.-led invasion began nearly seven years ago, a CNN count of Iraqi government figures shows.
At least 88 Iraqi civilians were killed during the month, an Interior Ministry official said Tuesday -- a figure compiled from data from the ministries of Health, Defense and the Interior.
Sporadic spectacular attacks -- such as the suicide bombings targeting government buildings in August and October -- continue to claim hundreds of lives and shake confidence in the abilities of Iraq's security forces.
But violence has been steadily dropping across the country over the past two years, and the number reflects the hope that stability and peace are on the horizon in that nation.
Before these figures were released, the lowest civilian casualty figures since the March 2003 invasion came in January of this year, with 138 people killed.
But since then, figures have been fluctuating, with August being the deadliest month for Iraqi civilians in more than a year.
In November, 332 civilians were injured, the Interior Ministry official said. In the same month, 12 Iraqi soldiers were killed and 44 wounded, and 22 Iraqi police were killed and 56 wounded. There were 38 terrorists killed and 510 detained.
The United States is pleased with the development. Gen. Ray Odierno, the top U.S. commander in Iraq, noted that the violence is at an all-time low, but he warned of more attacks ahead of the country's upcoming national elections, expected to take place next year.
"Since the departure of the U.S. combat forces from the cities, we have seen a consistent reduction in the number of security incidents nationwide. In fact, security incidents are at a historically low level," Odierno told reporters at a recent news conference.
"But we will still have a small group of extremist elements that will do anything and everything to undermine Iraq's progress and the people's confidence in the government of Iraq, which we have seen facilitated by high-profile attacks."