Iran prepares for Students Day protests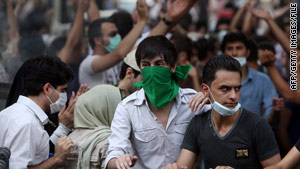 Authorities hope to avoid scenes like this one in Tehran in July, where people took to the streets over the elections.
STORY HIGHLIGHTS
NEW: Ex-President Rafsanjani criticizes leadership: "No tolerance for [differing] views"
Authorities prepare for gatherings that could turn into demonstrations against elections
Students Day marks anniversary of 1953 killing of three students by shah's security forces
Day is also a "symbol of Iran's struggle against tyranny," says ILNA news agency
Tehran, Iran (CNN) -- Iranian authorities warned of crackdowns as they tried to head off possible protests Monday, when the country marks Students Day -- the anniversary of the 1953 killing of three university students by security forces.
Authorities prepared for public gatherings that could turn into demonstrations against the June 12 elections, in which hardline incumbent President Mahmoud Ahmadinejad was declared the overwhelming winner.
The heavily disputed results led to protests nationwide and the jailing of hundreds of demonstrators. Charges of torture, rape and other abuses have since emerged from those jailed.
The Iranian government initially denied such accusations. But state media reported in August that authorities had fired and arrested the chief of an Iranian jail that was closed amid allegations of mistreatment of detainees.
Ongoing prosecutions of protesters also have resulted in sentences that have included death.
The Iranian government restricts the activity of journalists in Iran, making it difficult for news organizations to independently obtain or confirm information.
Members of the foreign media were forbidden from Monday through Wednesday to even go out and watch any possible protests stemming from Students Day, the Ministry of Culture said.
The Iranian security forces command congratulated the nation on Students Day, which it said is "observed as the symbol of Iran's struggle against tyranny and oppression," according to the semi-official ILNA news agency.
"We expect the respected faculty and students, particularly given the current sensitive situation, to prevent anyone from possibly taking advantage of these ceremonies and to extend any and all needed cooperation to the hardworking members of the security forces," the command said, according to ILNA.
Former Iranian President Ali Akbar Hashemi Rafsanjani, one of the nation's most powerful clerics and a reformist, slammed his country's leadership, saying "there is no tolerance for [differing] views and constructive criticism," and that some of the reactions to criticizing the country "encourage chaos," according to ILNA.
Speaking with student activists in the holy city of Mashhad, Rafsanjani quoted a verse from the Quran: "A secure society is a society that is pious and not subject to tyranny." He then added that those have been the objectives of the country's 1979 Islamic revolution, and that only when a society is pious and free of tyranny will it achieve progress, expand and maintain its safety, according to ILNA.
The three memorialized students were killed by the shah's security forces in 1953, which Zohreh Alhean, a member of the Islamic Parliament, said "signifies the struggle against worldwide oppressions, perpetrated by the American usurpers and the blood of the students, spilled on this day."
Tehran also blamed Western powers for instigating the protests against the June 12 elections, which involved tens of thousands of Iranians.