Iraq amends election law after months of dispute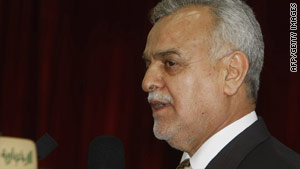 Tariq al-Hashimi, Iraq's Sunni vice president, pushed for more parliamentary representation for Iraq's refugees.
STORY HIGHLIGHTS
Vice president, who vetoed election bill earlier, said to be satisfied with revision

Al-Hashimi had said bill failed to provide enough seats for Iraqi refugees
Struggle over bill may delay parliamentary elections, which were due by end of January
U.S. to decrease troop levels in Iraq 60 days after elections
Baghdad, Iraq (CNN) -- Iraqi lawmakers struck a deal Sunday night to revise the country's elections law after months of disputes that may force a delay of the country's upcoming parliamentary vote.
Iraq's Sunni Arab vice president, Tariq al-Hashimi, vetoed a previous measure, but al-Hashimi spokesman Abdul Ellah Kadim told CNN that the vice president is satisfied with the revisions that passed late Sunday. Kadim said al-Hashimi has congratulated the Iraqi people and the lawmakers on their "achievement."
It remained unclear when elections for a new parliament would be held, however, and the independent electoral commission has already ruled out meeting its current deadline of late January.
The parliament passed an "explanatory memorandum" to the new elections law shortly before midnight Sunday (4 p.m. ET) in an urgent session called by the speaker of the parliament. The amendment brought the legislation in line with al-Hashimi's demands, Kurdish lawmaker Abdulbari al-Zebari told CNN during a telephone interview.
Iraq's three-member Presidency Council, which includes President Jalal Talabani and two vice-presidents, must unanimously approve legislation passed by parliament. Al-Hashimi had vetoed the election bill in November, arguing that it failed to provide enough seats for Iraqi refugees, many of whom are Sunnis.
The explanatory memorandum includes a count of government representation: 325 parliament seats; 310 seats for the provinces; and 15 compensational seats. Ethnic minorities will receive eight of the compensational seats and the Kurds received three additional seats in parliament.
The United Nations last week suggested the elections be held February 27, 2010. U.N. and U.S. officials have been involved in election talks to push for a compromise among Iraqi politicians.
The White House issued a statement Sunday welcoming the amendment's passage.
"This legislative action will allow Iraq to hold national elections within Iraq's constitutional framework," the statement said. "It is a decisive moment for Iraq's democracy and we congratulate the Iraqi people and their elected representatives."
From a U.S. military vantage point, the election is an important step in plans for a withdrawal from Iraq.
The U.S. military has said it would keep the current troop levels of 115,000 until 60 days after the elections and then start the pullout of troops, aiming for an end-of-August deadline for withdrawing combat troops from Iraq.
A residual force of up to 50,000 troops would be left in the country after that, with a complete withdrawal planned for the end of 2011.
Last month, Gen. Ray Odierno, the top U.S. commander in Iraq, said he had "flexibility" in this matter and did not have to make any decisions on withdrawal until late spring.
CNN's Isha Sesay, Bassil Yousif and Mohammed Tawfeeq contributed to this report.