Al Qaeda claims responsibility in Iraq blasts that killed 127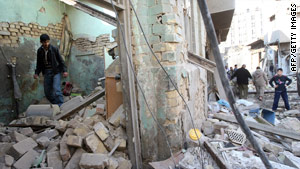 Iraqis inspect damage at the site of Tuesday's blast near the Finance Ministry in Baghdad.
STORY HIGHLIGHTS
Statement claiming responsibility reportedly from Islamic State of Iraq


It was published on an al Qaeda supporter Web site

CNN cannot confirm authenticity of statement

Iraqi PM: Attacks aimed at undermining upcoming elections
Baghdad, Iraq (CNN) -- Al Qaeda's umbrella group in Iraq on Thursday claimed responsibility for a string of suicide car bombings that killed 127 people and wounded 448.
A statement claiming responsibility, reportedly from the Islamic State of Iraq, was published on an al Qaeda supporter Web site. It referred to five suicide car bombings that hit government buildings, a neighborhood and a commercial district in Baghdad on Tuesday.
The statement said the attacks targeted "the bastions of evil and dens of apostates," and that the group is "determined to uproot the pillars of this government" in Iraq.
"The list of targets will not end until the flag of unification is raised again in Baghdad," the statement said.
CNN could not immediately confirm the authenticity of the statement.

Video: Iraq coordinated attacks
Iraq's finance and labor ministries and a courthouse were the targets of three of Tuesday's terror attacks, which were the worst since twin car bombings killed and wounded hundreds in late October.
The group also claimed responsibility for the attack in October, as well as a major attack in mid-August.
In the October attacks, 160 people were killed and at least 540 wounded after two car bombs exploded in quick succession outside Baghdad's governorate building and the Justice Ministry.
In August, two truck bombings and three other blasts left at least 100 people dead and more than 500 wounded. One truck bomb exploded outside the Ministry of Foreign Affairs, blowing through the front of the building and sending vehicles flying. The other truck bomb went off outside the Ministry of Finance building.
The Ministry of Finance building was being rebuilt at a new site after that attack, and it was that new site that was targeted this week.
Iraqi Prime Minister Nuri al-Maliki said Tuesday's attacks were aimed at undermining Iraq's upcoming elections, now set for March after a lengthy impasse in the country's parliament.