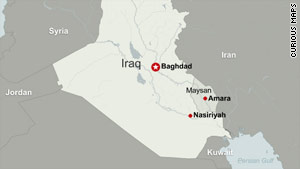 The oil well is in Maysan province, east of Amara, near the Iranian border, officials say.
STORY HIGHLIGHTS
Iranian forces last week seized oil well in territory claimed by both countries
After Iraqi protests, Iran withdrew troops, but Iraq says not far enough
Both countries say they're open to talks about their long, disputed border
Baghdad, Iraq (CNN) -- Nearly a week after a border dispute flared over a seized oil well, Iraq and Iran continued to pick at each other, but both nations signaled their intentions to resolve the spat.
Iraqi government spokesman Ali al-Dabbagh said late Tuesday that Iraqi lawmakers will attempt to review and analyze the 1975 Algiers Treaty and come up with "a clear vision" toward the pact -- never finalized because of the Iraq-Iran war that started in 1980.
Iraq must heed old border agreements, such as the Algiers Treaty, an Iranian diplomat said Wednesday, but the Islamic Republic is open to talks on their border, parts of which have been long been under dispute.
The border spat erupted last Thursday, when Iranian forces seized the oil well near Amara in Iraq's Maysan province and planted the Iranian flag on its tower.
Iraqis were incensed, saying Iran had entered their country's sovereign territory, and the government demanded that Iranian forces withdraw. But Iran dismissed Iraq's charges, saying the well was in Iranian territory.
"Our forces are on our own soil and, based on the known international borders, this well belongs to Iran," the armed forces command said on the Web site of Iran's state-run Arabic-language Al-Alam TV.
However, the Iranian action prompted intense diplomatic engagement by both countries, and a couple of days after the dispute erupted, Iranian forces withdrew from the well and workers returned to the complex.
But on Wednesday, Iraq said those troops were still on its territory and that they must depart.

Video: Ahmadinejad pressed on protests
Iran says it has long had a border patrol post 100 meters from the oil well and its forces there are on Iranian territory, according to Iran's ambassador to Iraq, Hassan Kazemi Qomi.
But Qomi told reporters Wednesday that the well is in an area under dispute, and the issue needs to be addressed by an Iraqi-Iranian committee that handles border matters.
Qomi repeated Iranian contentions that the tension sparked by the oil well issue between the two countries was an exaggerated political ploy ahead of Iraq's March national elections.
The Algiers Treaty was forged when Saddam Hussein ruled Iraq and the Tehran government was headed by the Shah of Iran.
Mahmoud Othman, an Iraqi Kurdish lawmaker, says the new Iraqi government has had strong reservations over the treaty.
One reason was because the Hussein regime made serious concessions to the shah in order persuade him to withdraw his support for Kurdish rebels in Iraq. However, the treaty lost its relevance when Hussein publicly ripped up the treaty during the bloody Iraq-Iran war of the 1980s.
Iraq and Iran share a long border, and high-ranking committees from both countries handle all border matters.
Political, economic, cultural and religious ties between the two countries, which are both majority Shiite Muslim nations, greatly improved after the overthrow of the Hussein regime in 2003.
At the same time, there has been widespread concern among Iraqi and U.S. officials that Iran provided Iraqi insurgents with material for roadside bombs during the Iraq war.