Shiite pilgrims targeted in Iraq attacks, official say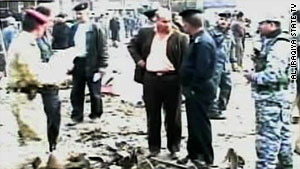 Police inspect damage after attacks Thursday in Hilla, Iraq.
STORY HIGHLIGHTS
NEW: Interior Ministry officials say roadside and car bombings kill at least 25 pilgrims in Hilla
NEW: Heath Ministry cites lower casualty figure of at least 14 deaths
NEW: Al Qaeda in Iraq and other Sunni groups suspected in attacks
Shiite pilgrims are marching toward Karbala, Iraq, for Shiite holy day of Ashura
Baghdad, Iraq (CNN) -- Attackers targeted Shiite pilgrims and mourners Thursday in Iraq ahead of a major holy day, causing at least 14 deaths, officials said.
Iraqi Interior Ministry officials said attackers in the Babil provincial capital of Hilla set off roadside and car bombs that killed at least 25 pilgrims and wounded 62 others. The Health Ministry came out with lower casualty figures, citing at least 14 deaths and 70 wounded.
One of those slain was a member of the provincial council, Nama Hamza al-Bakri. He also was a member of Iraqi Prime Minister Nuri al-Maliki's Dawa party, which issued a statement of condolences to al-Bakri's family and the Iraqi people.
Additionally, three Shiite pilgrims were killed and 22 others were wounded when a roadside bomb exploded among a crowd of pilgrims in southeastern Baghdad's Zafaraniya district.
Also, a roadside bomb went off inside a mourners' tent in Baghdad's Shiite stronghold of Sadr City, killing five people and wounding 22 others. Investigators suspect the attackers targeted mourners.
Hundreds of thousands of Shiite pilgrims are expected in Baghdad and the southern Iraqi city of Karbala for Ashura, which falls on Sunday this year.
Ashura commemorates the martyrdom of Hussein, grandson of the Prophet Muhammad. Hussein was killed in battle in Karbala in 680, one of the events that helped create the schism between Sunnis and Shiites, the two main Muslim religious movements.
Authorities suspect al Qaeda in Iraq and other Sunni insurgent groups are responsible for the attacks. The strikes underscore the persistence of sectarian violence in Iraq -- which has occurred in the past during Ashura.
The wave of violence comes a day after several Shiite pilgrims were killed and wounded in Baghdad.