(CNN) -- Military rescue teams in Taiwan found hundreds of villagers stranded by Typhoon Morakot along the island's mountainous regions, media reported.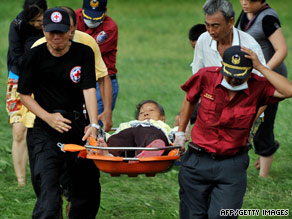 Rescuers carry an elderly survivor of flooding Tuesday in southern Taiwan after Typhoon Morakot struck.
Some 700 people in the isolated mountain of Kaohsiung County received food and water from the rescuers, Taiwan's semi-official Central News Agency reported, citing a military spokesman.
Among them were the roughly 200 residents who went missing for two days from the village of Siaolin, CNA reported.
Morakot dumped 83 inches of rain on parts of the island, unleashing the worst flooding there in half a century, according to the U.S. National Oceanic and Atmospheric Administration. Buildings collapsed in the floodwater, and mudslides buried everything in their paths.
After hitting Taiwan on Saturday, the storm roared on to mainland China, killing at least six people and displacing 1.4 million, authorities said.

Watch what rescuers face in Taiwan »
Yet the death toll was much higher in Taiwan, where Morakot was blamed for at least 62 deaths. Figures from the Central Emergency Operation Center said the storm had injured 35.

Watch as raging waters topple a hotel »
The United States is "very concerned" about the situation but has not received a request for aid from the Taiwanese government, Assistant Secretary of State P.J. Crowley told reporters Tuesday.
Don't Miss
"We are a formidable asset to the region. ... As you have seen going back to the [2004] tsunami, we respond in a timely way to these tragedies," he said.
Authorities had found shelter for 8,900 of 10,576 people whom the storm left homeless, Wang said, but disaster struck even as efforts continued to help victims.
A rescue helicopter crashed Tuesday in the mountains in southern Taiwan's Pingtung County, tumbled into a river and was washed away. Crews recovered the bodies of all three people who were aboard, Wang said.
The typhoon destroyed bridges and turned roads into muddy swamps, making them inaccessible to search-and-rescue teams.
Helicopters were dropping food, medicine and water to help keep people alive as they awaited rescue. Wang said reservoirs were overflowing, and people were piling sandbags wherever they could. iReport.com: Volunteers mobilize to help typhoon victims
Prices of meat and vegetables increased about 20 percent in response to the limited supply, and officials said the government was releasing stockpiled food to force prices down.
A report from the center described dozens of deaths and missing-persons reports. Among the missing were three groups of people who had been fishing along the Tsengwen River.
A sudden rush of water "flushed away" a factory in Taitung County, and a worker was missing, authorities said.
"The most pressing needs now are providing shelter, food and clean water for those who have had to evacuate their homes," said Hank Du, executive director for the humanitarian group World Vision Taiwan. "We also want to make sure the children are secure and have a safe place where they are cared for."
The group had started to distribute food, cleaning supplies, raincoats, flashlights and other items to those displaced in Taiwan communities.
The Taiwan Power Co. reported that power had been restored by Tuesday night to most of the 2 million households without electricity, according to Taiwan's Central News Agency.

The storm caused $89 million in damage to the country's aquaculture industry, its worst loss in 18 years as a result of a typhoon, the news agency said, citing a report from the Taiwan Council of Agriculture.
The storm made landfall Sunday in China on the coast of Fujian province about 4:20 p.m. Sunday, according to the state-run Xinhua news agency. Morakot's winds were clocked there at 73 mph (118 kph) in its eye, according to the province's meteorological bureau.
E-mail to a friend

Journalist Andrew Lee contributed to this report.