Spanish banks break ECB loan record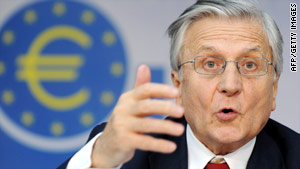 European Central Bank (ECB) chief Jean-Claude Trichet
STORY HIGHLIGHTS
Spanish banks borrowed €85.6 billion ($105.7 billion) from ECB last month
This is the highest amount since the launch of the eurozone in 1999
Spanish banks account for 11 percent of eurozone banking system
(FT) -- Spanish banks are borrowing record amounts from the European Central Bank as the country's financial institutions struggle to gain funding from the international capital markets.
Spanish banks borrowed €85.6 billion ($105.7 billion) from the ECB last month. This was double the amount lent to them before the collapse of Lehman Brothers in September 2008 and 16.5 percent of net eurozone loans offered by the central bank.
This is the highest amount since the launch of the eurozone in 1999 and a disproportionately large share of the emergency funds provided by the euro's monetary guardian, according to analysis by Royal Bank of Scotland and Evolution. Spanish banks account for 11 percent of the eurozone banking system.
The rise in borrowing from €74.6 billion ($91.9 billion) in April, or 14.4 percent of the net liquidity pumped by the ECB into the eurozone financial system, provides further evidence of the acute tensions in the Spanish banking system.
"If the suspicion that funding markets are being closed down to Spanish banks and corporations is correct, then you can reasonably expect the share of ECB liquidity accounted for by the country to have risen further this month," said Nick Matthews, European economist at RBS.
Some investors believe the difficulties increase the chances that Spain will have to use emergency loans from the newly created €440 billion ($542 billion) stability fund.
However, the euro strengthened against the dollar on Tuesday while Spanish bonds held steady as the government managed to raise €5.2 billion ($6.4 billion) from two short-dated debt auctions. It was forced to pay three-quarters of a point more in yields to attract demand.
The big moves in the eurozone bond markets were in Greece, where 10-year yields rose 74 basis points to 9.06 percent in reaction to Moody's decision to lower the country's long-term credit status to junk. Only Fitch, of the main rating agencies, gives Greece investment grade status.
Moody's move forced investors to offload the country's debt. Many can no longer hold these bonds in their portfolios because the rating action means the country's bonds will be removed from indices that these investors track.
Greece will be removed from Citigroup's World Government Bond Index, the EMU Government Bond Index and the World Broad Investment-Grade Index. Greek bonds will also no longer be eligible for Barclays Capital's Global Aggregate, Global Treasury, Euro Aggregate and Euro Treasury Indexes.
Greek government bonds will also attract an extra 5 percent penalty when banks use them as security for ECB funds because of Moody's action. The extra haircut means commercial banks will receive less money for Greek bonds than for bonds from any other eurozone nation.
FOLLOW THIS TOPIC