China poised to pass Japan as world's No. 2 economy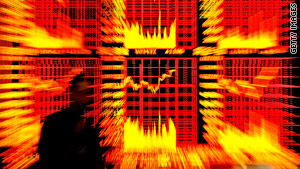 A Chinese investor walks past screens showing stock indexes at a trading house in Shanghai on August 13.
STORY HIGHLIGHTS
NEW: China's economy will double in size in the next 10 years
The U.S. economy is nearly three times larger than China or Japan
GDP is a broad measure of a country's economic output
Annual economic figures won't come out until early next year
(CNN) -- China appears on track to pass Japan and become the world's second-largest economy after the United States, figures released Monday showed.
Japan's gross domestic product, or GDP, totaled $1.29 trillion for the three months ending in June, the nation's Cabinet Office announced. China's official figure for the same period was $1.34 trillion.
GDP is a broad measure of a country's economic output.
Economist Frederic Neumann at HSBC in Hong Kong said China is forecast to overtake Japan by the end of the year, noting official annual figures won't come until early 2011.

Video: Japan's growth slows

Video: Why is Japan's growth slowing?
Another analyst says the whole matter is academic in any case.
"Basically, China's underlying growth rate is going to be about 8 percent over the next decade. Japan's underlying is going to be about 1 percent," said Jesper Koll, an economist with JPMorgan in Tokyo. "In 10 year's time, the Chinese economy will be twice the size of the Japanese economy."
For 2009, the International Monetary Fund listed the United States as the world's largest economy at $14.26 trillion, followed by Japan at $5.07 trillion and China at $4.91 trillion.