STORY HIGHLIGHTS
Nokia is the undisputed cell phone making champion of the world
The company is facing a steep erosion of market share with smartphone
Nokia missed the tilt in the handset world from hardware to software focus
Nokia executive: "We have our work cut out in the high end, and we will solve that"
(CNN) -- It's been a roller-coaster week for Finnish tech giant Nokia: Turmoil at the top and the introduction of its next generation of smartphones at its annual Nokia World Conference in London, where the message from executives was: "Nokia is back!"
"Today, the 14th of September -- mark that date in your calendar -- is the beginning of our fight back in the smartphone market," Niklas Savander, executive vice president of markets for Nokia, told CNN at the expo.
Fight back? Nokia owns 40 percent of the global handset market. It's expected to shift almost half a billion handsets this year, nearly twice that of nearest maker, Samsung.
CNNMoney.com: Why Nokia can't crack the U.S. market
Nokia is the undisputed cell-phone making champion of the world -- and fighting for its life?
"That seems strange, I know, but they are," said Roberta Cozza, principal research analyst for Gartner Inc. in London.

Video: What's new from Nokia

Video: Tech: New electronic gadgets

Video: App developer millionaire?
In a dilemma that's sure to become fodder for a myriad of business school case studies, Nokia was slow to grasp that the future of the handset industry won't be written by hardware, but by software.
The shake-ups at the top -- foremost the departure of Chief Executive Olli-Pekka Kallasvuo for Microsoft veteran Stephen Elop -- and the introduction of its next generation of smartphones this week signaled a change in focus for the Finnish tech giant, yet in many ways the company is a victim of its own past success.
"They are the leader today, but you have to look at how quickly their share is declining," Cozza said.
Nokia has dominated across the globe in low and mid-range priced phones and will continue to be an industry force in the future.
"The problem is users are migrating to the smartphone market ... all the innovation is coming from the high-end of the market, and this is where they are not a leader at all."
Nokia's problem can be summed up this way: Its operating software, Symbian, is all thumbs.
Nokia cellphones rocketed to success in the 1990s with an innovative user interface that taught a legion of devotees around the world how to text and pull down different menus with a thumb toggle switch. That all changed when Apple's iPhone was introduced three years ago with an innovative touch screen that did away with thumb gymnastics.
"Nokia has a legacy software which users are used to, which makes it difficult to throw out everything and recreate something new," said Thomas Kang, an analyst with Strategy Analytics in Seoul.
"The easy path is just to build on what you've done in the past, and that's kind of left them behind -- Apple started from scratch."
Companies starting from scratch in the smartphone industry have never had it easier. Instead of developing your own proprietary microchip -- as Nokia did in partnership with Texas Instruments in the 1990s -- the hardware required to build a smartphone has become standardized.
"It basically meant that anyone can buy a semiconductor, wi-fi chip and camera from a third-party to build a phone," said Adrien Bommelaer, senior research analyst for Piper Jaffray in London.
"So hardware is not differentiating you from your competitors any more -- the differentiation is now done by software," Bommelaer said.
And more important, the number of software developers you can attract to the system. The iPhone has spawned a dizzying variety of apps which create a huge "ecosystem designed around personal preferences and features," Cozza said.
But the real threat to Nokia's current dominance isn't iPhone or Research in Motion's Blackberry -- the two most popular high-end makers. The real culprit behind Nokia's shrinking market share is Google and its Android operating system.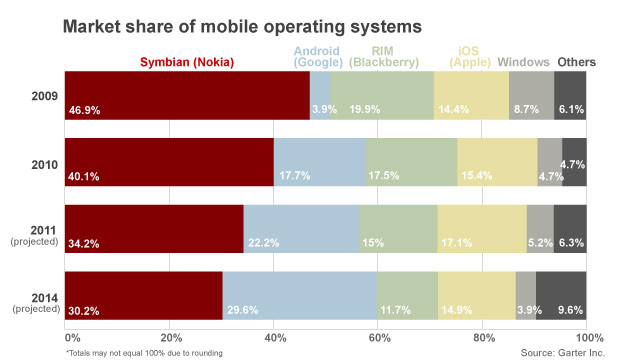 Nokia has a legacy software, which makes it difficult to throw out everything and recreate something new
--Thomas Kang, Strategy Analytics
Provided to smartphone makers without license fees, Android is a low-cost operating system that analysts say works better in a touch-screen interface than the latest version of Symbian. As a result, large companies such as LG and Samsung are flocking to Google's system, drilling a hole in Nokia's dominance in the low and mid-tier priced phones.
In the past year, the market share of Android-based phones jumped from 3.9 percent to an astonishing 17.7 percent, according to Gartner. At the same time, Nokia's Symbian driven market share dropped from about 47 percent to just over 40 percent.
Gartner predicts that by 2014, Android-based phones will be poised to eclipse Nokia systems by market share.
Nokia hopes to stem the tide by the change at the top and the introduction of its new smartphone, N8, which goes on sale from October 1. Analysts are waiting to see whether the new Nokia leadership will be able to stop the loss of market share, and whether improvements to the Symbian software will be able to attract developers to build more applications for Nokia phones.
So far, the jury is out. "The N8 -- it's a good phone," Bommelaer said. "Is it enough? Probably not, but it's a step in the right direction."
Nokia's Savander told CNN: "When you have 40 percent market share, you do not have the luxury of focusing on one segment only, and so we have been doing a lot of work in making sure we are very competitive when it comes also to the low end and to attract new consumers into the smartphone segment.
"Granted, we have our work cut out in the high end, and we will solve that," he said.
FOLLOW THIS TOPIC