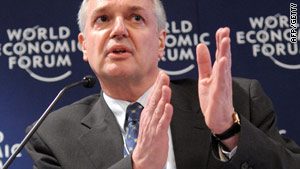 Unilever Chief Executive Paul Polman, pictured here in January 2010, said he was "delighted" to be acquiring Alberto Culver.
STORY HIGHLIGHTS
Anglo-Dutch conglomerate Unilever to buy Alberto Culver for $3.7bn (£2.3bn).
Alberto Culver is US-based consumer goods company with famous haircare brands.
For the 12 months to June, Alberto Culver made revenues of $1.6bn (£1.1bn).
Alberto Culver group employs 2,700 people and has operations in nine countries.
(FT) -- Unilever is to buy Alberto Culver, the US-based consumer goods company, for $3.7bn (£2.3bn) in a deal that will bring brands such as TRESemmé and VO5 into the Anglo-Dutch conglomerate's stable of haircare and skincare products.
"We are delighted to be acquiring Alberto Culver," Paul Polman, Unilever chief executive, said on Monday.
"Their people have done an excellent job of building an impressive range of brands such as TRESemmé, VO5, Nexxus, St. Ives and Simple. These will complement Unilever's existing portfolio of iconic brands like Dove, Clear and Sunsilk in hair care and Pond's and Vaseline in skincare, and will help build on our strong global positions in both the hair care and skin care categories."
Shares in Unilever rose 0.3 per cent or 6p to £17.99p in early London trading on Monday.
For the 12 months to June, Alberto Culver made revenues of $1.6bn (£1.1bn) and earnings before interest, tax, depreciation and amortization of more than $250m (£158m). The all-cash deal includes $150m of Alberto Culver's debt.
Alberto Culver group employs 2,700 people and has operations in nine countries, including the US, Canada, the UK, Argentina, Mexico and South Africa.
While it produces products such as low-sodium food dressings and baking sprays, the acquisition is most significant for adding further weight to Unilever's operations in so-called "personal care" products such as skincare, haircare and bodywash.
Personal care is the fastest-growing category for global consumer goods companies, especially in emerging markets, and the Alberto Culver acquisition will allow Unilever to have more products across a broader range of price points.
In the most recent quarter, Unilever's sales of personal care goods rose 7.8 percent to €3.6bn, compared with growth of only 3.5 percent for ice-cream and beverages, and 0.5 percent for savoury foods, dressings and spreads.
The story is the same at Reckitt Benckiser, the maker of Cillit Bang cleaner and Finish dishwasher powder, where health and personal care is growing at 14 percent a year, compared to 8 percent growth across the whole business.
The drive to access this fast-growing category prompted Reckitt to purchase SSL International, the maker of Durex condoms and Scholl footcare, in July for £1.5bn ($2.3bn).
The Alberto Culver acquisition is the second major deal by Unilever in this product category this year. In September 2009, the group bought the personal care division of Sara Lee, securing Radox bubblebath and Brylcreem hairgel, although the European Commission is still scrutinizing the deal.
"Personal Care is a strategic category for Unilever and growing rapidly," said Mr Polman.
"Ten years ago it represented 20 percent of our turnover; strong organic growth has now driven it to reach over 30 percent, with strong positions in many of the emerging markets.
"Organic growth remains the cornerstone of our energizing ambition to double the size of Unilever whilst reducing our overall environmental impact. Bolt-on acquisitions such as Alberto Culver supplement organic growth and add powerful new brands to our portfolio."
Initial analyst response to the acquisition was positive.
"The initial consideration for Alberto Culver of 14.8x EBITDA on the face of it looks quite punchy, but we believe 'significant' but as yet undisclosed synergies will make the price look more reasonable," said Graham Jones and Damian McNeela at Panmure Gordon in a note to investors.
"It further skews Unilever to high-growth, high-margin personal care categories, gives a more rounded category presence in hair care and makes it global leader in hair conditioning, number two in shampoo and number three in styling."
FOLLOW THIS TOPIC