STORY HIGHLIGHTS
Anti-austerity protests to be held across Europe Wednesday
Protesters are demonstrating against government spending cuts
European countries are trying to reduce debt which ballooned during financial crisis
Strong second quarter growth in the eurozone is not expected to continue
London, England (CNN) -- Simmering anger over government budget cuts will spill into the streets of 14 European countries Wednesday as tens of thousands workers fight state efforts to slash public debt.
More than 100,000 people are expected to chant "No to Austerity" in the streets of Brussels, with smaller protests planned across Europe by the European Trade Union Confederation (ETUC), which represents 50 unions in 30 countries.
The protests coincide with a general strike in Spain, but a poll published in Spanish daily Publico on Friday indicates that turnout could be low. The survey suggested that many people thought the government would push through spending cuts whether they protested or not.
Strikes have proliferated in Europe over the past few months as unions resist austerity budgets that governments say are necessary to restore the faith of financial markets in European sovereign debt. So how did it come to this?
Europe's sovereign debt crisis
Just as consumers went crazy with credit when borrowing was cheap and jobs were plenty, governments too racked up debts. The problem was compounded by large bills to bail out banks, along with extra spending on economic incentives and benefits, amid falling government revenues.
"The parties that they had in Greece, Portugal, Spain --- the house price boom, the hiring of public workers -- that encouraged those countries to really get out of control. Unfortunately it's got to the point where investors don't think the government has the ability to pay back that money," says James Shugg, senior economist at Westpac.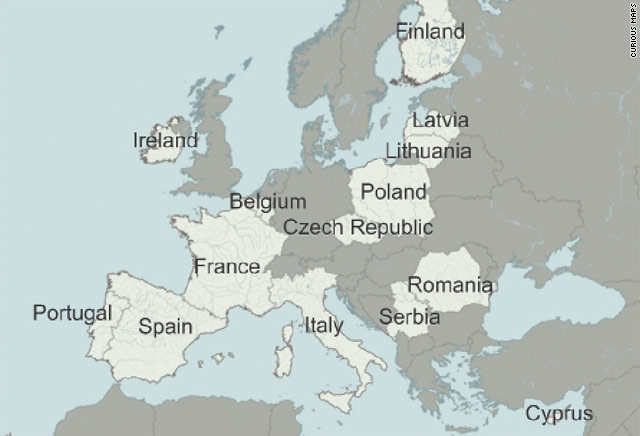 'No to Austerity' protests

Video: Chinese firms look to Greece

Video: French strike against pension reform
Shugg says banks appear to be coming under unofficial government pressure to buy government debt in their respective countries which is propping up demand. He tells a story of being in a lunch meeting with bankers in one European country.
"I can't tell you if we had pasta, paella or potatoes but that gives you an idea where we might have been. The message was that officials are really sweating about their ability to meet budget targets and issue new debt," he said. "Apparently those government officials have been actively encouraging local banks to boost the take-up rate of issues this year".
Which countries are in trouble?
Greece is still the poster-child for the financial crisis in Europe, but others are battling their own issues of bulging debt and sagging income. In May, the IMF and eurozone states agreed a 110 billion euro ($150 billion) bailout plan for Greece.
It hasn't come to that yet for Spain, Portugal, Italy or Ireland, the other major European countries in severe economic turmoil. Other major economies including the UK, France and Germany are also cutting spending to cope with the global financial crisis that spread in 2007 after lax credit controls allowed banks to issue risky loans and sell on bad debt.
European leaders are discussing measures to fine governments who fail to keep their public finances in order. The proposals, which will be announced Wednesday will include forcing member states of the European Union that fail to reduce debt to pay a fine of 0.2 per cent of gross domestic product.
Why is the lack of demand for public debt a problem?
If no one is willing to buy sovereign debt, governments are forced to service their bulging loans from the public purse as well as to use state finances to try to stimulate growth. Ireland is a case in point. The country announced Wednesday plans to create 300,000 jobs as it struggles to shake off recession.
At the same time, ratings agencies Standards & Poor's and Fitch warned that the country was at risk of further credit downgrades due to its multi-billion euro bailout of troubled bank Anglo Irish. The threat of a downgrade pushed up Ireland's cost of borrowing on financial markets, creating an extra squeeze on public finances.
"It looks bad," says Ken Wattret, chief Euroland economist at BNP Paribas. "It's not exactly the same as Greece because the debt-to-GDP ratio going into this crisis was much lower. But the scale of the problem the government faces in Ireland is huge. The financial sector is in deep, deep trouble and the government is having to support it and that is putting huge strain on public finances."
What are governments doing?
Governments across Europe are slashing public spending to bring their debt-to-GDP ratios back to palatable levels. Spain last week unveiled what Spanish finance minister Elena Salgado called the "most austere budget of recent years." The measures included a tax rise for high income earners, but on the whole, public sector workers are bearing the brunt of tighter budgets across Europe.
The protests Wednesday include workers from 30 unions across Europe from multiple sectors. In Spain, even grandparents whose free labor is used to care for grandchildren were being urged to join the strike.
What do the protesters want?
The aim of the protests is to put pressure on governments to loosen the budgetary vice and to "demand recovery plans in favor of quality jobs and growth," according to the ETUC.
BNP Paribas' Ken Wattret says there's no easy solution. If leaders cave in to public pressure, they risk further damaging the country's reputation on financial markets. If they don't, they face the wrath of an increasingly angry public with the power to eject them from office.
"You can't please all of the people all of the time and if the governments are going to successfully win back the confidence of the financial markets the level of social unrest will inevitably increase," he says. "What the markets are keen to see is no backsliding from governments but whether the governments can hold the line is highly uncertain if they are increased demonstrations and increased strike action. It's a very, very difficult problem to deal with."
Could Europe's 'summer of discontent' continue long into the autumn?
Westpac's James Shugg says Wednesday's protests are a sign of things to come. He cited the example of Latvia which received IMF assistance in exchange for drastic cuts in 2008.
"Hospitals in rural areas were closed, pensions were cut, salaries were cut, basically mortality rates went up, more old people died in the winter because they couldn't afford to heat their homes," he says.
"You're actually starting to hear stories about people dying because of budget cuts there. That is the future for Greece, Portugal, Spain, and maybe to a lesser extent Italy as these cuts really start to bite." As the public begins to feel the squeeze of cuts he expects objections to grow louder.
Could the crisis lead to the break-up of the eurozone?
The consensus seems to be no. Aside from the legal barriers preventing any single country from leaving the bloc, an emergency exit could spell disaster for the departing country. Such a move would free the country from the euro, but that would force a sudden and sharp devaluation of its currency, leaving it less able to pay off euro-denominated debts.
What are Europe's prospects for growth?
The latest figures show Europe's growth is weakening despite a strong second quarter driven by rising exports mainly in Germany.
"We expect growth with be very sluggish. The second quarter growth was about as good as it gets for this expansion," says Sara Johnson, economist at IHS Global Insight, which expects Europe's GDP to grow at an annualized rate of around one percent in the second half.
"The more internationally competitive countries are leading the growth, that includes Germany, some of the Scandinavian countries if one looks at broader Europe. France will have some modest growth as well but the laggards will be Greece, Spain, Portugal and Italy," Johnson says.
FOLLOW THIS TOPIC