STORY HIGHLIGHTS
A handful of western businessmen -- mostly European -- operate in North Korea
Nosotek, a joint venture with a German businessman, makes mobile video games
Nosotek founder Volker Eloesser: "(North Korea) is one of the last frontiers"
Company employs 45 and provides outsource game development services
(CNN) -- As North Korea's ruling elite gather for a rare conference of the country's ruling Korean Worker's Party, the world is watching for clues on the future of this secretive country.
But a few western entrepreneurs with businesses in the capital city, Pyongyang, are betting the future of the "Hermit Kingdom" will bring profits.
"It's one of the last frontiers," said Volker Eloesser, a German national who set up a game manufacturing business in North Korea three years ago.
Foreigners running joint ventures with state-run businesses are staking a claim on the economic prospects for the country, equivalent to opening a shop in Beijing before economic reforms took root or starting an enterprise in East Germany before the Berlin Wall fell.
"I needed to have something which is, let's say, very interesting and challenging," said Eloesser, who sold his previous IT business in Germany before starting Nosotek in 2007.
"So North Korea is one of the last wide spots on the map, so I traveled there and I found some good opportunities."
Eloesser estimates there are about 100 Westerners living and working in Pyongyang -- mostly Europeans since the U.S. forbids economic ties with the country. There is a British company that produces DVD players, a local bank run by a British national that handles only expatriate accounts, and French conglomerate Lafarge operates a cement-making factory acquired when the company bought Orascom Cement in 2008.
Swiss man remembers school with son of North Korean leader
"We have many Chinese companies here ... who are producing textiles and who are producing bicycles," Eloesser said. "I observe they use their companies also to invest in real estate, buildings, setting up shops and restaurants. They wouldn't do this if they wouldn't have some hope that their investment would bear fruit some day."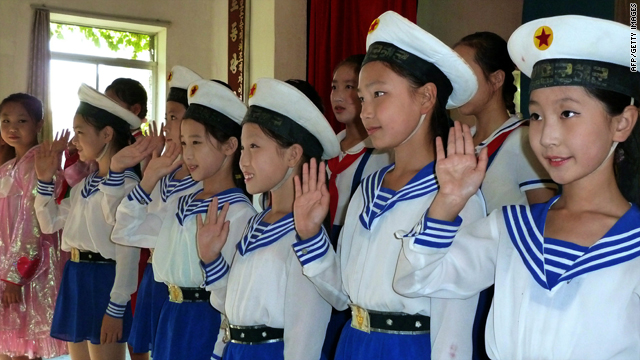 Gallery: Life inside North Korea

Video: Who is Kim Jong Un?

Video: 'A freaky, freaky trip'

Video: North Korea's next leader?
Nosotek makes computer games primarily for the mobile phone market and has been contracted by companies in North America, Europe and Asia to produce games. He wouldn't confirm media reports that games included "Men in Black: Alien Assault" and "Big Lebowski Bowling" -- a game based on the 1998 film "The Big Lebowski" -- for a unit of News Corp.
Eloesser said it was fairly easy to find English-speaking, IT-trained workers because many of his 45 employees had already worked in China on projects for foreign companies. He found them through a partnership with a North Korean entity called the "General Federation of Science and Technology."
Labor costs in North Korea are about "half the cost of China," he said.
While Nosotek is primarily engaged in outsourcing work, Eloesser said the company is seeking investors to build the business to 200 employees and to publish original games.
Building an IT business in North Korea, however, has some roadblocks. In the past, Eloesser has taken several of his North Korean employees to Germany for training, but the last time he tried, the visa applications for his employees were denied.
North Korean leader's son a rising star
"The ambassador explained to me, if they all come to Germany to learn from us, they'll all learn to make nuclear bombs," Eloesser said.
While the commercial ventures in North Korea do not violate United Nations sanctions against the country, Eloesser and others have been criticized for engaging in enterprises that support a repressive regime.
"We are doing video games," said Eloesser, who adds the company is only covering its costs right now.
"The people who've never been here are criticizing me most," Eloesser said. "What I say is pretty simple: What do we need here? People getting to know each other: We need Koreans knowing the foreigners. And we need the foreigners knowing the Koreans.
"North Korea is a very isolated country. We have to give them a chance to learn from us, to learn our way of thinking. And by staying away, I personally believe we will make it more difficult."
Living in an isolated country presents its own challenges. "I wouldn't say that it's fun to live here, but it's really not bad," he said. "There are plenty of restaurants, plenty of stores filled with goods."
What is life like inside North Korea?
He has never seen evidence of people starving, "nor have I met anyone who has seen that," he said. However, his movements are strictly limited to the city. "I don't know what is going on in the far remote countryside, because I've never been there."
"The biggest difficulty for me personally is that you have very limited social contact with local people," he said. "You have a great international community of foreigners, but you can't invite a local person to your home or be invited by a local person into their home."
Eloesser said he doesn't plan to make North Korea his permanent home. "It's a nice place to be, but not for the rest of my life," he said.
FOLLOW THIS TOPIC