Toyota recalls 1.5 million vehicles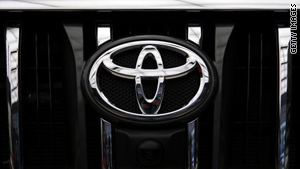 Toyota's logo is seen on the front grille of a car.
STORY HIGHLIGHTS
The recall includes cars and SUVs
All vehicles were made between 2002 and 2006
Tokyo, Japan (CNN) -- Toyota on Thursday announced the recall of 1.5 million vehicles for possible brake and fuel system problems.
The automaker submitted a recall notice to Japan's transport ministry for about 599,000 Toyota and Lexus models produced between 2002 to 2005, and an additional 930,000 vehicles sold overseas, said Toyota spokesman Paul Nolasco.
Toyota said the U.S. recall involves replacement of a brake master cylinder seal on about 740,000 cars and SUVs, including the 2005 through 2006 Avalon, the 2004 through 2006 Highlander (non-Hybrid) and Lexus RX330, and the 2006 Lexus GS 300, IS 250, and IS 350 models.
The brake system recall in the United Kingdom includes more than 15,000 Lexus IS, GS and RX models made between 2003 and 2005.
In addition, the UK fuel pump recall, involves about 2,100 GS 300 models build from 2004 to 2006.
Details on the recall in other countries were not immediately available.
CNN's Yoko Wakatsuki contributed to this report.