STORY HIGHLIGHTS
In a crowded market, job seekers need to make themselves stand out
Successful candidates don't just seek visibility -- they put their specific, high-value skills in the spotlight, career experts say
Creative job search experiments sometimes redirect people to new and unexpected opportunities
(CNN) -- Fresh out of work, information technology executive Michael Lee knew he was facing a tough market when he started job hunting in the fall.
But instead of submitting his résumé to positions advertised online, he decided to do something to put himself in the spotlight: the 47-year-old issued a press release touting how he could single-handedly fix a broken IT department.
His aim: to bypass the first round of human resource directors and résumé search algorithms and catch the eye of the executives directly concerned with hiring a chief information officer.
"The job market is flooded with thousands of good candidates. It's [an employer's] market and they are holding out for the great candidates," Lee told CNN. "If you are a great candidate, you have to stand out among thousands."
The Texas resident, who shared his story on iReport, targeted the release at CEOs and described how their existing IT department was likely underperforming, and how he could fix it.
TARGET: Focus on what you can offer a prospective employer, not on what you hope to gain.

EVOLVE: Re-tune your pitch as you get feedback and always be ready to adjust it.

NETWORK: Find opportunities that haven't been advertised yet by tapping your professional network.

RESEARCH: Follow industry journals and newsletters to know where the deals -- and the jobs -- are happening.

Sources: Harry O'Neill, Heidrick & Struggles; Vinika Rao, INSEAD; Stephen Shih, HKUST Business School; Alex Herrera, IESE Business School
In today's crowded job market, mid-level and senior executives are putting themselves in the spotlight -- whether by wearing a sandwich board advertising their jobless state or staging attention-garnering stunts like Lee.
Careers experts say job seekers need to look beyond the usual process of networking and submitting résumés online. But that doesn't necessarily mean they need to go to extremes to get noticed.
Offbeat strategies can pay off, but they have to be done carefully. Successful candidates don't just seek visibility, says Stephen Shih, head of career services at Hong Kong University of Science and Technology's business school. "They put their specific, high-value skills in the spotlight."
Finding a job is about trying to sell yourself, says Alex Herrera, career services director at IESE Business School. That can mean something as simple as turning a previous experience into a powerful job pitch, or using creative maneuvers to make a first contact, he says.
"You need to build a story. You need to develop content, a proposal, something that [employers] think is interesting."
Herrera says one person he knew landed a job in the alternative energy industry after reading about an innovative Alaskan businessman in a newspaper and convincing the reporter of the story to put him in touch with the man.
Jamie Varon, 25, made waves last year with her website twittershouldhireme.com. The site went viral as people spread the word about it on Twitter and other social networking platforms.
You're not always going to get the company you're going after, but you could get something better.
--Jamie Varon
Varon says her idea worked -- but not the way she expected. Twitter executives brought her in for a meeting, but they were more interested in congratulating her on her project than in hiring her.
Other potential employers, however, had picked up on Varon's project. Her Twitter pitch had started with a simple modified version of a Wordpress blog theme, but "it turns out that I really love web design and I happen to be pretty good at it," she told CNN.
"I caught the attention of some people who were in that industry and I started getting clients and one client leads to another. It had a snowball effect."
Varon now runs her own design company, Shatterboxx. Initially she viewed not getting a job at Twitter as a failure. "It was an ego hit," she acknowledges. But the fact that her "failed" project spawned a web design business soothed her disappointment.
"You're not always going to get the company you're going after, but you could get something better," she said of her unconventional job-hunting strategy.
Lee, the information technology specialist, also hasn't gotten a job. But he told CNN he's been contacted by two companies interested in using him for consulting work based on his pitch.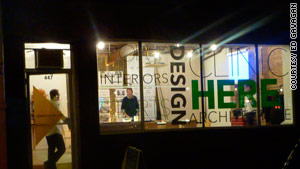 Designer Ed Gavagan created a pop-up clinic to rustle up more work.
"Is it the best approach? I'm not certain. However, when I look at the results I have achieved -- within weeks -- compared to colleagues who have been without work for months, I am encouraged," he said.
For some daring job seekers, putting themselves in the spotlight can result in many small opportunities, rather than the one big job.
Take Ed Gavagan, 47, who runs a design company, PraxisNYC, that specializes in consulting and interiors in New York City.
Last year when business was slow, he collaborated with fellow designers and architects on a "Pop-up Design Clinic." For a month, they offered passers-by free consultations from a rented storefront.
Even though they only got a few big projects out of it, the shop got buzz for being accessible and informal. "It got our name and our info out to a bunch of people that we wouldn't have seen otherwise," Gavagan told CNN.
"Now our cards are in people's pockets. You are lodged in their mind as a creative problem solver and it lingers on.
"You get to strut yourself a little bit in front of somebody in a small-stakes place -- and hopefully they remember and keep you in mind."
FOLLOW THIS TOPIC