No decision yet on bail for detained Americans in Haiti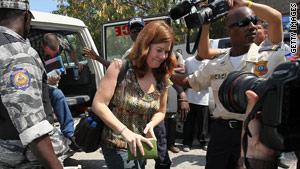 Laura Silsby is one of 10 Americans accused of trying to take 33 children out of Haiti illegally.
STORY HIGHLIGHTS
Judge has not yet decided on bail for U.S. missionaries in Haiti

Ten Americans face kidnapping charges for trying to take children from Haiti

Missionaries claim they planned to take children to orphanage in Dominican Republic

Port-au-Prince, Haiti (CNN) -- A Haitian judge will not rule on bail for 10 Americans detained on child abduction charges until Monday at the earliest, court officials said.
A decision had been expected Thursday, but none was reached.
The 10 missionaries were charged a week ago with kidnapping children and criminal association for trying to take 33 children out of Haiti without proper documentation following the nation's January 12 magnitude-7.0 earthquake.
Judge Bernard Saint-vil told CNN on Wednesday that he could reach a decision for a type of bail without bond. The decision would not be a final verdict in the case or even a decision on whether the case would continue to be investigated.
The judge said, if he grants bail, he could set conditions such as keeping the Americans in Haiti while the case proceeds or allow them to return to the United States, but require them back in Haiti for the next stage of the process.

Video: Missionaries in court
The Americans have said they were trying to help the children get to a safe place, and wanted to establish an orphanage in the Dominican Republic. Some of the Americans have said they thought they were helping orphans, but their interpreters have said that they were present when group members spoke with some of the children's parents.
Some of the parents also spoke with CNN, saying they had willingly given their children to the Americans, who promised them a better life and said they could see their children whenever they wanted.
Earlier this week, Jorge Puello, a Dominican attorney hired to represent the group, said they had authorization from the Dominican Republic to bring the children across the border, but he did not show the documents to reporters.
Dominican officials have previously said the Americans did not have permission to transport the children into the country. Puello did not say whether the group had authorization from Haitian officials.
CNN's Karl Penhaul contributed to this report.

Part of complete coverage on

They filled the grounds in front of the collapsed cathedral in Haiti's capital Wednesday. To remember. To cope. To pray.

Can-Do founder Eric Klein spent most of 2010 in Haiti helping people recover from the devastating earthquake.

A much-awaited review of Haiti's disputed presidential election has been completed but not yet been handed over to the president.

Haiti's economy is getting a boost thanks to a venture with one of Korea's largest companies that promises to bring in 20,000 jobs.

Nadine Devilme has thanked God countless times for saving her baby and has wanted to thank the doctor who treated the child after the earthquake.

Amy Wilentz says a year after the earthquake, much of the funding to rebuild is stalled as aid organizations wait for the election crisis to be resolved.


Today's five most popular stories