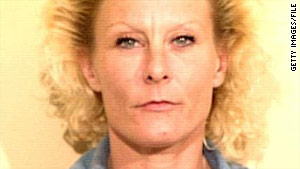 Colleen LaRose, who authorities say called herself "Jihad Jane," allegedly was part of a plot to kill a Swedish cartoonist.
STORY HIGHLIGHTS
NEW: Colleen LaRose, in green jumpsuit with ponytail, pleads not guilty to terrorism charges

American accused of conspiring to support terrorists and kill a person in a foreign country

Authorities say LaRose called herself "Jihad Jane"

LaRose and five co-conspirators allegedly recruited men on the Internet "to wage violent jihad"

Philadelphia, Pennsylvania (CNN) -- The American woman who authorities say called herself "Jihad Jane" pleaded not guilty Thursday to charges that she tried to help terrorists and kill someone in another country.
Colleen LaRose, who is accused in a four-count indictment of conspiring to support terrorists and kill a person in a foreign country, appeared in a federal courtroom full of spectators in Philadelphia.
Her hair was pulled back in several rows of braids and tied into a ponytail. She wore a green jumpsuit, and her hands were handcuffed behind her back.
The indictment, which also charges her with making false statements to a government official and attempted identity theft, said LaRose agreed last year to kill a resident of Sweden.
A U.S. government official familiar with the case identified the target as Lars Vilks, a cartoonist who outraged some by drawing the Muslim prophet Mohammed with the body of a dog in 2007.

Video: Did LaRose lead double life?
That cartoon prompted al Qaeda to offer a reward to anyone who killed Vilks.
According to the U.S. Justice Department, LaRose and five co-conspirators recruited men on the Internet "to wage violent jihad in south Asia and Europe."
Authorities have not identified the alleged co-conspirators, but police in Ireland arrested seven people last week, an operation that the U.S. official said was directly related to the plot involving LaRose. Two of those have since been charged.
A government official familiar with the investigation told CNN that when LaRose was arrested, "Initially, she was providing a level of cooperation. It helped lead to the arrests in Ireland."
The indictment against LaRose said she recruited women on the Internet who had passports and the ability to travel to and across Europe in support of violent jihad.
Their plans included martyring themselves, soliciting money for terrorists, soliciting passports and avoiding travel restrictions by collecting passports and by marrying so they could wage jihad, the indictment said.
The indictment further charges that LaRose stole a U.S. passport and transferred or tried to transfer it to facilitate an act of international terrorism.
LaRose, who was born in 1963, was arrested on the terrorism charges in Philadelphia in October, a spokeswoman for the U.S. attorney's office there said last week. She is being held at the Federal Detention Center in Philadelphia.
If convicted, LaRose would face a possible life sentence in prison and a $1 million fine.
LaRose and the alleged co-conspirators believed that her appearance and American citizenship would help her blend in while carrying out her plans. LaRose appears in her mug shot with blond hair.
The indictment said LaRose even agreed to marry one of the alleged co-conspirators to obtain residency in Europe.
Rep. Charles Dent, R-Pennsylvania, said after the arraignment that he hoped LaRose would provide further information to authorities.
"Will she cooperate again? I hope so," Dent said. "It's critical that we learn how a relatively new Islamic convert was so quickly radicalized through researching the Internet."