Member of '70s pop band arrested on sex charge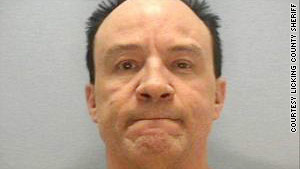 A statement on Richard Finch's Web site says charges against the musician are unfounded.
STORY HIGHLIGHTS
Police say Richard Finch admitted having sex with boy, 17, and others
Finch was with the pop music group KC & the Sunshine Band during its heyday in the '70s
Police investigated after boy said he had sexual contact with Finch
Finch's Web site says he has no comment, but calls charges unfounded
(CNN) -- A member of the 1970s pop music group KC & the Sunshine Band has been arrested after a 17-year-old boy said he had sexual contact with the musician, authorities said.
The teenager said he had sexual contact with Richard Finch at Finch's house in Newark, Ohio, the Licking County Sheriff's Office said in a statement.
During an interview with detectives, Finch "disclosed that he did in fact have sexual contact with the juvenile, along with multiple other male teenage juveniles as well ranging from ages 13 to 17," the office said in a statement Wednesday.
Investigators said they arrested Finch this week. The sheriff's office statement lists the offense as gross sexual imposition, a felony.
A statement on Finch's Web site reads:
"We appreciate your contact, but at this time, we have no comment. We will let due process happen through the legal system and through that, we are sure Mr. Finch will be vindicated from these unfounded allegations."
The sheriff's office said detectives continue to interview people and that a grand jury will consider additional charges later.
Finch played bass and drums with KC & the Sunshine Band, known for hits such as "That's the Way (I Like It)," "Get Down Tonight" and "I'm Your Boogie Man," and co-wrote many of the band's biggest hits with Harry Wayne "KC" Casey. He left the band in 1980.
Casey disputed that Finch co-founded the band, saying that he started it in 1973 and Finch joined a year later. However, singles from the band's first album, "Do It Good," were released in 1973 and feature Finch.
"The serious allegations confronting Mr. Finch have nothing to do with me nor with KC & The Sunshine Band," Casey said in a statement. "Those legal issues associated with this case will be dealt with via the judicial system of the state of Ohio. Our hearts go out to the alleged victims and their families."