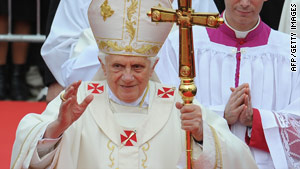 Pope Benedict XVI is named in a suit filed by an Illinois man alleging that the Vatican covered up sexual abuse by a priest.
STORY HIGHLIGHTS
NEW: Priest, now deceased, is believed to have molested up to 200 boys, victims advocate says
Suit alleges a cover-up involving the priest at a Wisconsin parochial school
Pope Benedict XVI is named in suit that alleges cover-up of sexual abuse
The lawsuit demands the Vatican release the names of thousands of Catholic priests
(CNN) -- An Illinois man is suing the Vatican and Pope Benedict XVI for allegedly covering up sexual abuse by a priest at a Catholic school in Wisconsin.
The lawsuit demands the Vatican release the names of thousands of Catholic priests that the suit says have "credible allegations of sexual misconduct" against them.
The alleged victim, who is now an adult, says he was molested by Father Lawrence Murphy while a student at St. John's School for the Deaf, according to the complaint filed in U.S. District Court in Milwaukee, Wisconsin.
"The defendant, [the] Holy See, has known about the widespread problem of childhood sexual abuse committed by its clergy for centuries, but has covered up that abuse and thereby perpetuated the abuse," the suit says.
Federico Lombardi, a Vatican spokesman, declined to comment on the case.
Pope Benedict XVI was named as a defendant because he has the ultimate authority to remove priests and because of his involvement in reviewing sex abuse cases when he was Cardinal Joseph Ratzinger, the suit says.
"There are a number of priests, brothers, and agents who defendant continued in ministry after defendant knew or suspected that those agents had molested children," the suit says.
Suit alleges U.S., Mexican cardinals covered up abuse
Peter Isely, a director with the Survivors Network of those Abused by Priests (SNAP), estimated the Vatican is investigating 4,000 cases of sex abuse by church employees.
The lawsuit aims to change church policies and practices that conceal sex offenders, Isely said.
"It's going to protect children, we hope, around the world," he said, "This is a historic day and hopefully this is going to result in historic changes."
Arthur Budzinski, a deaf man who said he was sexually assaulted and raped by Murphy, stood with Isely at a news conference Thursday.
He said the priest "may have stolen our bodies," but higher clerics such as cardinals, archbishops and the pope "stole our voices."
He made his comments in sign language and his daughter, Gigi, interpreted his words.
The now-deceased Murphy is believed to have molested up to 200 boys, Isely said
The lawsuit said the church "knew that there was a high probability that these clerics would sexually molest more children, but sought to protect itself from scandal, sought to keep its income stream going, at the peril of children."
Murphy, it says, was a "top fundraiser and recruiter" for the church and the "Holy See wanted to retain Murphy's services."
The same Minnesota law firm representing the Illinois plaintiff also filed suit Wednesday on behalf of a Mexican resident who says he was sexually abused by a priest.
The suit alleges Catholic officials in Los Angeles, California, aided and abetted the abuse by moving the priest to different dioceses as allegations piled up against him.
CNN's Tom Cohen contributed to this report.