Death penalty sought for Fort Hood shooting suspect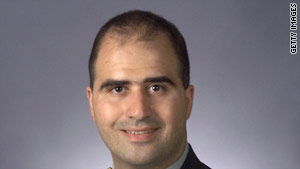 Maj. Nidal Hasan is suspected of shooting 13 people to death at Fort Hood in Texas.
STORY HIGHLIGHTS
Army prosecutors file notice of 'aggravating factor' signaling death penalty
Multiple slayings cited in court papers
Maj. Nidal Hasan is accused of opening fire at Fort Hood in November, killing 13
(CNN) -- The Army officers responsible for prosecuting the Fort Hood shooting suspect will be seeking the death penalty, the suspect's attorney told CNN.
John Galligan -- the attorney for the suspect, Maj. Nidal Hasan -- said that the filing of a memo by the prosecutors Wednesday indicated that finding Hasan guilty of more than one of the murders would constitute the "aggravating factor" necessary for the Army to seek the death penalty.
Thirteen people died in the shooting spree at the Texas base last November.
"It is the first 'formal notice' but, of course, it has been a virtual given from the start," Galligan wrote in an e-mail to CNN. "In short, the Army has been pursuing death from the git-go."
The actual decision to seek the death penalty occurs after an Article 32 hearing. The hearing -- the military justice system's rough equivalent of a grand jury hearing -- is scheduled to start June 1 at Fort Hood in Texas.