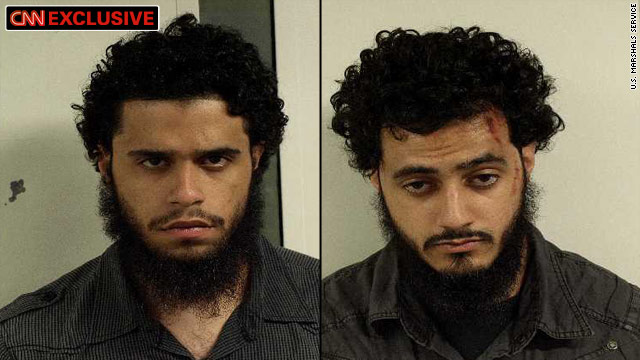 STORY HIGHLIGHTS
NEW: Terror suspects, both from Jersey suburbs, craved fame, document shows
Undercover agent recorded their conversations
One suspect said he would outdo Fort Hood, Texas, shooter, according to criminal complaint
Two men spoke of wanting U.S. troops coming home in caskets, body bags
(CNN) -- One of two New Jersey men accused of planning to "wage violent jihad" once boasted, "I wanna, like, be the world's known terrorist," according to a court affidavit.
An undercover agent recorded the statement allegedly made by Mohamed Mahmoud Alessa, a 20-year-old from North Bergen, New Jersey, to 24-year-old Eduardo Almonte, who lived in the nearby borough of Elmwood Park.
The two men appeared Monday before a federal magistrate, who ordered them held without bond on charges of conspiring to kill, maim and kidnap people outside the United States, which carry a maximum sentence of life in prison. Both men requested court-appointed attorneys.
Excerpts of their conversations, in which they frequently called each other "bro," are contained in a federal criminal complaint filed in U.S. District Court in Newark, New Jersey.
"A lot of people need to get killed, bro, swear to God. ... I have to get ... assault rifle and just anyone that even looks at me the wrong way, bro," Alessa said in November 2009, according to the complaint.

Video: N.J. terror suspects held without bail

Video: FBI raids suspects' homes

Video: Feds: Pair planning 'jihad' arrested
The men allegedly talked in January about how they wanted U.S. soldiers "to come back home safely and cozily ... in body bags, in caskets," according to the complaint.
The court document describes the alleged actions of Alessa and Almonte between February 2006 and their arrest Saturday at New York's JFK International Airport.
Prosecutors portray the suspects as two young men who seemed hungry for fame and fed up with their suburban lives.
"What's better than sitting back here and working like a dog and ... being somebody's puppy?" Almonte asked the undercover agent in March. He said he yearned for "a life of dignity" serving Allah.
The case is the latest in which Americans have been arrested and accused of plotting terrorism against the U.S.
In late May, a Department of Homeland Security unclassified memo prepared for law enforcement agencies said "the number and pace of attempted attacks against the United States over the past nine months have surpassed the number of attempts during any other previous one-year period."
The Obama administration last month unveiled a national security strategy that explicitly recognized this kind of threat.
A lot of people need to get killed, bro, swear to God.
--Mohamed Alessa, suspect
At John F. Kennedy International Airport this past weekend, Almonte and Alessa were intending to take separate flights to Cairo, Egypt, and then travel to Somalia "to join designated foreign terrorist organization al-Shabaab," prosecutors said.
Al-Shabaab is an Islamic organization allied with al Qaeda.
Almonte and Alessa prepared for jihad by lifting weights, role-playing how to kill an armed guard, simulating combat at a West Milford, New Jersey, paintball facility and playing shooting video games, according to the complaint.
The friends also purchased CamelBaks, backpacks that carry water and sit comfortably on the back when a person is moving. The men told the undercover agent they had binoculars and four tactical-brand flashlights, according to the document.
"We'll start doing killing here if I can't do it over there," the complaint quotes Alessa as saying on tape in November 2009. The complaint notes that the word "killing" is the English translation for an Arabic word Almonte used.
We'll start doing killing here if I can't do it over there.
--Carlos Almonte, suspect
In another recorded conversation that month, Alessa said if a fire were to break out in Jersey City, New Jersey, "God willing, Allah makes it rain gasoline" on the fire. "Inflame it more. That'd be hot, to rain gasoline," he said.
At one point, Almonte said he would have "more bodies" on a gun he intended to use "than the hairs on my beard." He described how to behead someone, then referred to Major Nidal Hassan, who is charged with shooting and killing 13 people in 2009 at Fort Hood, Texas.
"We're being pushed by every corner of the earth, yanni. The only fear you have when you, when you start killing them, and when you, when you take their head and you go like this and you behead it on camera, and you, you have to be ruthless, bro," Alessa said, according to the complaint.
He continued: "Freaking Major-Nidal-shaved-face-Palestinian-crazy guy, he's not better than me. I'll do twice what he did."
The FBI received a tip regarding the men's activities in October 2006, according to the U.S. Attorney's office in New Jersey.
The tip came from someone who knew Almonte and Alessa, the complaint said.
"Every time they access the Internet, all they look for is all those terrorist videos. ... They keep saying that Americans are their enemies, that everybody other than Islamic followers are their enemies ... and they all must be killed," the tipster told police.
Alessa and Almonte traveled to Jordan together in 2007, the complaint said. New York Police Commissioner Raymond Kelly told reporters over the weekend they intended to go to Iraq to fight, but did not make it there.
The New York Police Department was involved in the investigation because the men spent a lot of time in Brooklyn. Almonte and Alessa allegedly played for the undercover officer numerous video and audio recordings promoting jihad, including lectures by fugitive American-born cleric Anwar al-Awlaki and videos of al-Shabaab fighters.
The men, who were headed to Egypt, had gone through security at JFK Airport on Saturday. Authorities were waiting for them to get as close to boarding as possible -- so there could be no doubt that the two intended to travel abroad -- before making the arrests.
Almonte and Alessa's arrests come a month after Faisal Shahzad, a 30-year-old Pakistani-American, was taken into custody in connection with a botched car bomb attempt in New York's Times Square on May 1.
Shahzad, who was living in Connecticut, faces five counts and could be sentenced to life in prison if convicted.
FOLLOW THIS TOPIC